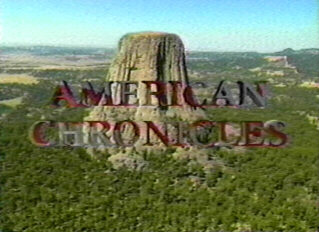 This show, by Lynch/Frost productions, ran for a few episodes on the FOX network in the U.S. and also in the U.K. on Channel 4. Richard Dreyfuss narrated the show, which consisted of documentary-style stores about various people and events in America. Mark Frost was the main producer. Lynch served as an uncredited executive producer on the series.
One episode, entitled "Champions," was co-directed by Lynch and Frost. It never aired in the U.S., but aired in the U.K. on June 21, 1992.
The episode, "Once Upon a Time," about Hugh Hefner was released on tape and laserdisc by Playboy Home Video. It's currently out of print, but you can order it used from amazon.com.
The Episodes:
Farewell to the Flesh (aired in the U.S.)
Manhattan After Dark (aired in the U.S.)
High School Reunion
Miss Texas
Autos
Biker Nation (aired in the U.S.) (guest stars Michael Horse)
Semper Fi
Eye of the Beholder (aired in the U.S.)
Defenders of the Faith
After a Fashion/An American Camelot
Here Today Gone Tomorrow/Truck Stop
Once Upon a Time (aired in the U.S.)
Diamonds Are Forever/The Future That Never Was
Class of '65 (aired in the U.S.)
Back to the main index
---
American Chronicals and the picture on this page are trademarks of Lynch/Frost Productions. These pages contain information copyrighted by other individuals and entities. Copyrighted material displayed in these pages is done so for archival purposes only and is not intended to infringe upon the ownership rights of the original owners.