December 2001 News
Monday, December 24, 2001
Give yourself a little holiday present - davidlynch.com

I know there were many people waiting on registering for davidlynch.com till all the bugs were worked out. Well, it's all working now, and there's even new content being added (a new episode of Dumbland was added just today). So now's the time to make the commitment. Just $10 a month is all it takes to have new original Lynch content beamed straight into your home. Not only do you get Lynch's ongoing series, you also get his experiments, many of which are short films themselves (they be's being pretty good too). Plus, you get the chance to talk to him live in the chat room, view his photography, download wallpaper and screen savers, and much much more. All for less than the cost of of going out to a movie in most places. So if you enjoy Lynch's work, show your support by becoming a member of davidlynch.com today.
Saturaday, December 22, 2001
More on the FWWM deleted scenes.

Hive4Media has an online article about the deleted scenes. New Line states that it was not a question of money. "The discussions didn't even get that far." However, Lynch has said in his chatroom at davidlynch.com that it was, as did John Neff in an interview at dugpa.com. In response to this contradiction, John Neff posted on the discussion board "Don't be confused, follow your hunch. Intuition will tell you what the truth is..." Looks like New Line is being cheap and trying to shuffle off the blame on someone else.
Friday, December 21, 2001
FWWM DVD pre-orders

Amazon.com has Fire Walk With Me available for pre-order on DVD. You can purchase it here.
Mulholland re-release

Because of the golden globe nominations, Universal Focus will be re-releasing Mulholland Drive to theaters in January. So if it never came to your town the first time round, now you have a second chance to catch it!.
Thursday, December 20, 2001
Mulholland gets Golden Globe nominations

Mulholland Drive received four nominations for this year's Golden Globe awards, one for best director (David Lynch), one for best score (Badamamenti), one for best script (Lynch) and one for best picture. Given the history and makeup of the Golden Globes there's little chance it will win, but they are usually a good indication of what the acadamy award nominees will be. Looks like Lynch might get his third oscar nomination for best director this year after all. Unfortunately Naomi Watts was overlooked for best actress (but Halle Berry and Nicole Kidman were nominated - ugh!). You can read the full list of nominations here.
``I'm used to my movies not performing well at the box office and I'm used to things not going so well with critics. But this has been unbelievably strange,'' David Lynch, director of best movie drama nominee ``Mulholland Drive'', told Reuters.
No deleted scenes on FWWM DVD

Looks like the FWWM DVD from New Line that will be released on February 26 won't have the deleted scenes after all. While the official specs haven't been released, there are several reasons why this is likely. First, it's only listed as a single disc. With both a DD and DTS 5.1 soundtrack and the documentary, they'd pretty much have to make it a double disc set to fit deleted scenes on too. Second, both David Lynch and John Neff have mentioned online that they don't think they'll spring for the deleted scenes now.
Twin Peaks DVD problems.

Some people have reported getting two copies of the episode 3 and 4 disc and no episode 5 and 6 disc, so be sure to check your set out before throwing away the receipt. At least that's not as bad as my Elephant Man DVD, which had no disc in it at all! :(
Lynch Art in Philadelphia

On Movies By Steven Rea, Philadelphia Inquirer
There's a cool show of early David Lynch work -- spooky etchings and acrylics that offer a revealing look into the mind and imagination of the Mulholland Drive filmmaker -- on display at the Roger LaPelle Gallery in Old City. Lynch, who has always credited Philadelphia -- a spooky town, as he remembers it -- for forging his artistic sensibility, studied at the Pennsylvania Academy of the Fine Arts. He and his friend Jack Fisk (now a top Hollywood art director and Sissy Spacek's spouse) lived in a run-down old house and painted whenever, and wherever, they could. "I didn't have a studio space at the time, and so I painted in LaPelle's place," Lynch recalled in an interview a few months back. "He gave me $25 to paint, and he'd get to keep whatever I painted." (The pieces go for considerably more now, even adjusted for inflation.) Lynch also cast LaPelle's mother-in-law, Dorothy McGinnis, in the title role of his spooky 1970 short, "The Grandmother." The gallery is at 122 N. Third St. Information: 215-592-0232.
Saturday, December 15, 2001
Fire Walk With Me DVD release date!!!!

Several retailers are starting to list the street date for New Line's Fire Walk With Me DVD as February 26, 2002. No word on if it includes the deleted scenes or not. More details as they become available.
Mulholland nominated for AFI awards

Mulholland Drive has been nominated for several American Film Institute awards. Nominations are: Best Movie, Best Actress (Naomi Watts), Best Director and Best Composer (Angelo Badalamenti). The winners will be announced January 5.
Davidlynch.com store opens in January

David Lynch said in the chat room on his site the other day that the store will be opening in January. So be sure to save up all that xmas cash you get this year. Remember, the store will include DVDs of Lynch's short films and a newly remastered Eraserhead.
Twin Peaks DVD giveaway.

The fine folks over at DVDfile.com are giving away a copy of the Twin Peaks First Season DVD set. All you have to do to enter is email then your name and address. If you're too strapped for cash right now to buy it, this is your chance to own it for free. Details can be found here.
Lynch wins Best Director!

David Lynch as been named Best Director for Mulholland Drive this year by the LA film critics. Mulholland Drive was the close runner up for best picture behind "In the Bedroom,"
Full article on NY Mulholland win

Here's the full article on Mulholland Drive's win of the New York Film Critics Circle Best film of 2001 Award.
Another Peaks DVD review

Ign.com has a review of the Twin Peaks First Season DVD set here.
Email problems

A problem destroyed my email inbox yesterday, so if you've sent me email in the last few weeks and never got a response, you might want to re-send whatever it was. Sorry!
Friday, December 14, 2001
Digital Bits Peaks DVD review

The Digital Bits has a review of the Twin Peaks First Season box set. They seemed to like it. You can read the review here.
Thursday, December 13, 2001
Mulholland wins NY award!

Mulholland Drive has been named best picture of 2001 by the New York Film Critics Circle. You can find detals here.
Why should you subscribe to davidlynch.com?

A lot of people have been asking this question. Besides supporting a filmmaker we all admire (why else would you be reading this page after all!), here's a list of the nifty things you'll find inside davidlynch.com once you subscribe:
Films: Six Men Getting Sick (20 second clip)
The Alphabet (30 second clip)
The Grandmother (30 second clip)
The Amputee (20 second clip)
Eraserhead (45 second trailer)
Lumiere (30 second clip)
The Cowboy and the Frenchman (40 second clip)
Music: Blue Bob (sample clips and the full video to the song "Thank You Judge"
Industrial Soundscapes
Thought Gang
Original Series: Dumbland
Rabbits
Axxon N.
Live: Bird Feeders Webcam (multiple shots)
Experiments: (all include pictures or video clips): Bees #1
Sunset #1
Coyote #1
Dead Mouse With Ants
Steps
Out Yonder (a short film)
Head with Hammer
Pierre & Sonny Jim
Radio: Oddio: Talk Radio for the Mental Voyer. A weekly show hosted by Jennifer Lynch
Gallery: A variety of Lynch's photos. Sections include Nude Photos, Industrial Photos, Tandem Prints and Paintings.
Chat: Two live chat rooms. Lynch frequents them often.
Cards: You can choose from nine original lynch drawings to email as cards to your friends, family and enemies.
Cartoons: The Angriest Dog in the World (brand new strips from Lynch's comic series)
Dumbland
Screen Savers: Four different Lynch photo wallpapers, a Dumbland screensaver and a Teeth screensaver
Phone Booth: Dial numbers and get a special surprise
As you can see, that's a lot of stuff for just $10. If you still have doubts, consider this: A ticket to a movie is almost $10 these days. This is just like having a new Lynch film beamed into your home every month. It's well worth the cost, so head over to davidlynch.com today and sign up!
Wednesday, December 12, 2001
Davidlynch.com problems.

Well, davidlynch.com is officially up and running. They recieved over 3 million hits yesterday alone! Nice to see there are other Lynch fans out there. Now, onto the problems. There were a lot of bugs at first, and several people (myself included) had their card charged but did not recieve access to the site. Some poor people even had their card charged several times! If you are one of those, contact support@davidlynch.com to get things straightened out, or call 949-497-3554 between the hours of 9:00 am to 5:00 pm PST. A big thank you goes to John Neff who's been helping make sure people's problems with accounts are sorted out.
The first original series should start there soon, with the store opening in about a week or so. Here's some of the things you will be able to buy from the store:
Eraserhead posters and t-shirts, Dumbland coffee cups, Eraserhead caps, Blue Bob CDs, Eraserhead and short film DVDs (They will not be ready to ship for a couple of weeks - books still being printed,boxes made), and a other stuff.
It's a great time to be a Lynch fan!
Mulholland weekend box office

Mulholland Drive took in $70,755 in 89 theaters, bringing it's nine week total to $5,265,058.
Monday, December 10, 2001
Davidlynch.com is open!

Davidlynch.com is now officially open. Not much is there yet. Lots of people are having problems getting in and are getting password requests when they go to the site. If you do, keep trying. The site will let you in eventually. I'm sure the bugs will get sorted out as the day goes on. All that's at the site now are the main intro pages. The original series and the store should be following soon. For those who are having trouble getting in, here's a preview of the pages: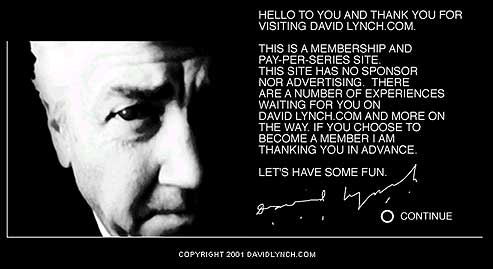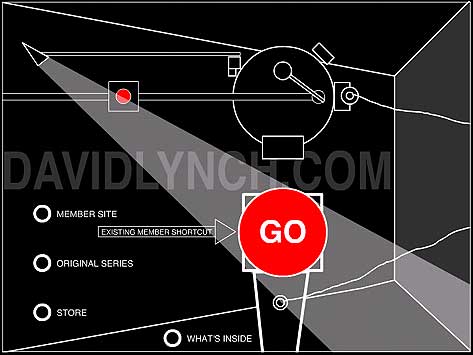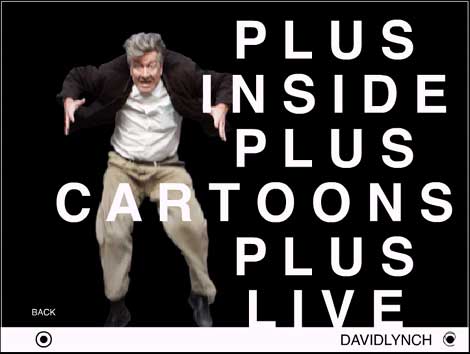 Elephant Man DVD reviews

DVDfile.com has a review of the new Elephant Man DVD. You can read the review here.
There's also a review of the DVD at digitallyobsessed.com.
Thursday, December 6, 2001
Davidlynch.com to open December 14?

The daily countdown continues on davidlynch.com till the site opens. Assuming the number changes every day including weekends, that means the site will open on December 14. Just in time for the holidays!
Mulholland on video March 12th?

Home Video Watch magazine is reporting that Mulholland Drive will be out on DVD and VHS (priced to rent) on March 12, 2002. They don't say their source so take it with a grain of salt.
Thanks to Ben Fords for the info.
NBR honors Mulholland

The National Board of Review has named Mulholland Drive one of the ten best films of the year (number ten to be exact). Also honored was Naomi Watts for breakthrough performer.
Tuesday, December 4, 2001
Mulholland weekend box office

Mulholland Drive took in $117,820 this weekend, bringing its eight week domestic total to $5,151,278. It's down to 86 theaters.
Countdown to davidlynch.com begins

Lynch's official website, davidlynch.com, is now counting down till it opens. If you haven't already, be sure to sign up at the site for email notification of when it goes online.
Mulholland French Lobby Photos online

You can download all 10 of the French Mulholland Drive lobby photos on the MD pictures page here.
Back to the News Archives
All pages Copyright © 1995-2002 LynchNet, unless otherwise noted.
These pages contain information copyrighted by other individuals and entities. Copyrighted material displayed in these pages is done so for archival purposes only and is not intended to infringe upon the ownership rights of the original owners.