January 2003 News
Monday, January 20, 2003
Happy Birthday David Lynch
David Lynch turns 57 today.
Lynch directs Nissian car commercial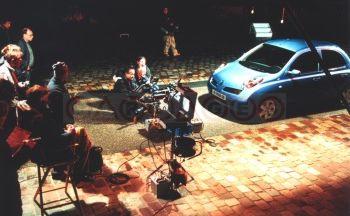 You can view the ad here in quicktime high bandwidth or low bandwidth.
(article courtsey carpages.co.uk)
So original and distinctive is the new Micra that Nissan has invented a new language to describe it. And our teacher will be David Lynch.
Micra is no ordinary car, and no ordinary words can communicate it. In conjunction with TBWA/G1, Nissan has developed a break-through communications concept based around the fusion of existing words to create a whole new vocabulary, such as modern yet subtly retro – to make modtro. To underpin this departure from the ordinary, Nissan asked acclaimed film director David Lynch to direct the TV commercial.
The Micra combines bold and distinctive design, with easy to use technology in a car engineered to be fun and easy to drive. TBWA/G1 was briefed to develop a campaign which would reflect this unique mix of values not only in terms of the Micra, but also in the broader context of the Nissan brand as a whole.
Agreeing to direct the advertisement, David Lynch commented, "I like the Micra, particularly the headlamps. They are like jewels. And I like the concept of 'Do you speak Micra?' I like modern and retro put together to make modtro – that's a very good concept."
Accompanied by a flow of Micra words spoken by giant blue lips – which recalls the atmosphere of Lynch's Blue Velvet – the new Micra moves through an innovative environment lit by the French director of photography, Jean-Yves Escoffier (The Crow: City of Angels, Good Will Hunting, Les Amants du Pont-Neuf ).
David Lynch: "I think it was [surrealist artist Rene] Magritte who put lips in the sky. This is a bit of the feel of those big beautiful lips speaking in a supermodern and very graphic city [Paris]."
Lynch and Escoffier combined to use innovative technologies and an experimental approach to create an out-of-the-ordinary commercial.
David Lynch said: "There is a lot of experimentation in the shooting, so we have many pieces to fit together. Plus, we are building things in 3D for this commercial. [For example] the lips have got to be isolated and finessed. "
Chris Garbutt, Creative Director, TBWA/G1 Europe commented: "Lynch and Escoffier used a wide range of machinery and equipment to get the desired effect – from a helicopter, to another car, even a parachute to reflect light from the helicopter to the Micra. All this while fireworks were detonating under the Micra's wheels. They also shot a lot of elements in different areas which have been blended together in 3D during post production. This commercial is like the new Micra car: a mixing of such different elements."
The way in which David Lynch filmed the car is in a way reminiscent of the way he shot women in Twin Peaks and Mulholland Drive: with mystery, sensuality and with a sense of the bizarre.
Chris Garbutt: "In a shot going down from the top of a building, Lynch introduced a woman character with red hair looking out of a window. It's these details that inspire a similar, cool emotion to Twin Peaks or Mulholland Drive."
So, it's time to speak Micra…
Spafe (spontaneous + safe)
Simpology (simple + technology)
Smig (small + big)
Aggrendly (aggressive + friendly)
Thractical (thrilling + practical)
Luxurable (luxurious + affordable)
Compacious (compact + spacious)
The new Micra campaign will be launched all over Europe, in up to 30 countries, from January 2003. It will cover all media: TV, outdoors, radio, and internet. It goes on sale from 15 January.
Twin Peaks actor found dead
Royce Applegate (Father Clarence in Twin Peaks)
LOS ANGELES - A body found in a burning Hollywood Hills mansion on New Year's Day was identified as veteran film and TV character actor Royce Applegate, a co-star of the 1990s sci-fi series "SeaQuest DSV." An autopsy was performed but a finding on the cause of death was deferred until the results of toxicology tests were known, coroner's spokesman David Campbell said. Two firefighters injured in the blaze were in stable condition Thursday after undergoing surgery on their arms, hands and legs. Applegate, 64, was found dead after flames swept through the three-story home atop the Hollywood Hills. The cause was under investigation, Fire Department spokesman Brian Humphrey said. A couple who lived on a lower floor of the house escaped without injury, Humphrey said. Applegate's entertainment career spanned more than 30 years. He made guest appearances on various TV shows such as "Charlie's Angels," "Dallas" "Little House on the Prairie" and "Home Improvement." He played Chief Manilow Crocker in the 1993-96 TV series "SeaQuest DSV," which followed a crew trying to keep underwater peace as mankind colonized the oceans. The series also starred Roy Scheider and Michael Ironside. Applegate appeared in such films as "Splash," "History of the World: Part I," "Gettysburg" and most recently "The Rookie." Applegate is scheduled to appear in two films this year, including "Talking In Your Sleep" and "Gods and Generals," where he plays Civil War Brig. Gen. James L. Kemper. He played the same role in "Gettysburg."
Back to the News Archives
All pages Copyright © 1995-2002 LynchNet, unless otherwise noted.
These pages contain information copyrighted by other individuals and entities. Copyrighted material displayed in these pages is done so for archival purposes only and is not intended to infringe upon the ownership rights of the original owners.