May 2002 News
Friday, May 31, 2002
Lynch on the FWWM deleted scenes

Lynch had this to say about the possibility of MK2 including the deleted scenes on their FWWM DVD:
"DAVIDLYNCH [8:55 PM PST]: I THINK MAYBE THEY ARE THINKING ABOUT IT --- I NEED A LOT OF MONEY TO REOPEN FIRE WALK WITH ME --- TO FINISH ALL THOSE SCENES PROPERLY --- MAYBE IT IS TOO MUCH MONEY FOR THEM --"
What stinks about all this is that if MK2 and New Line had just worked together they could have split the cost and would only have to come up with half the money needed for the restoration. This is pretty much our last chance to see them though, so keep your emails coming to dvd@mk2.com or editions@mk2.com and show them your support.
Thursday, May 30, 2002
Blue Velvet screening in Dallas, TX

Blue Velvet will be showing at midnight on July 5 and 6 at the Inwood theater in Dallas. First we get Mulholland Drive playing for six months here and now a couple of nights of Blue Velvet. Can't beat that.
Final Cannes Festival Diary online

The final Cannes diary is up at davidlynch.com. Also up are several more answers to members' questions.
Monday, May 27, 2002
Cannes Winners

The Winners have been announced at this year's Cannes Film Festival. The jury, headed by Lynch, included actresses Sharon Stone and Michelle Yeoh, Indonesian actress Christine Hakim, French directors Claude Miller and Regis Wargnier, Danish director Bille August, Chilean-born director Raoul Ruiz and Brazilian director Walter Salles. "There are not enough prizes available to reflect all our desires, yet we as a jury feel very good with our final choices," Lynch said at the closing ceremony before the awards were announced. Here is the list of winners:
Palme d'Or (Golden Palm) - "The Pianist" directed by Roman Polanski (France-Poland)
Grand Prix (runner-up prize) - "Mies Vailla Menneisyytta" ("The Man Without a Past") directed by Aki Kaurismaki (Finland)
Best Actress - Kati Outinen in "The Man Without a Past" (Finland)
Best Actor - Olivier Gourmet in "Le Fils" ("The Son") (Belgium)
Best Director - Shared by: Im Kwon-Taek for "Chihwaseon" (South Korea) and Paul Thomas Anderson for "Punch-Drunk Love" (United States)
Best Screenplay - Paul Laverty for "Sweet Sixteen" (Britain)
Special Jury Prize - "Yadon Ilaheyya" ("Divine Intervention") directed by Elia Suleiman (Palestinian)
Special 55th anniversary prize - "Bowling for Columbine" directed by Michael Moore (United States)
Cannes Diary Update

Cannes Diary entries 7 (Beach) and 8 (Cafe Au Lait) are up now at davidlynch.com. Angelo Badalamenti makes an appearance in episode 8. Set 3 of the Cannes questions is also up.
Mac Central on Diaries

Mac Central has an article on Lynch's Cannes Diaries:
The Cannes International Film Festival is an event that most of can't attend, but this year we have a chance to see what's happening behind the scenes.
David Lynch, director of Hollywood cult classics for TV and the big screen, is at Cannes this year and is sending back QuickTime video clips of the event. In fact, David is the Chairman of the Selection Committee charged with picking the winners of this year's festival.
The QuickTime videos are being posted to David's Web site and are available as pay-per-view movies. For US$3.94, users can see approximately 15 videos from the event. Members of David's Web site can also send him questions, which he will answer and post as a video on the Web site.
The video is shot, edited and posted the same day it happens, using Final Cut Pro, Media cleaner Pro and several Macintosh G4s, Eric Bassett, designer of DavidLynch.com told MacCentral.
Held in Cannes, France, the festival is host to some of the world's top celebrities. Attendees this year include Jack Nicholson, Sandra Bullock, Matt Damon, Ralph Fiennes and Sharon Stone among others.
Mulholland DVD sales

Mulholland Drive is now off both major DVD sales charts (Video Business and VideoScan). It's the number 6 best seller at Amazon, number 23 at DVD Empire, number 18 at DVD Express and number 16 at Tower Records.
Friday, May 24, 2002
Update on the FWWM deleted scenes

The latest update from the FWWM: Fight for Deleted Scenes Website:
Friends,
For almost the last 10 years, Fans have been petitioning for the release of Deleted Scenes to the film Twin Peaks: Fire Walk With Me. In spite of receiving thousands of letters world wide, in 2002 New Line Home Video disappointed Fans all over the world when they decided NOT to fund the release of the Deleted Scenes to be included with their DVD release.
The following statement was made by French film company MK2, the rights holders of the film property to Twin Peaks: Fire Walk With Me:
May 19th, 2002 - "Next week in Cannes we plan to meet with David Lynch to discuss the possibilities of including Deleted Scenes on our upcoming release of Twin Peaks: Fire Walk With Me on DVD. Thanks to the many emails we have received in the past few months, we have realized the worldwide demand for these scenes. We can make no promises, and will have to see how talks with Lynch go and take it from there. We will be pushing back our release from the original September release date to allow more time for negotiations. Please keep those emails coming in, as we will be forwarding them to our Production department."
Since negotiations will be happening next week, it is extremely important to show your support and spread the word. If the MK2 funds the Deleted Scenes to be cut and edited by Lynch, then there is a good chance that that one of these things will happen:
1. MK2 will release a 2 Disc Set of FWWM on DVD with the second disc being a Region 0 Double-sided PAL/NTSC disc. 2. Lynch will get exclusive rights to distribute the Deleted Scenes in North America and on his web site. 3. With the Deleted Scenes being readily available, New Line can license them and re-release FWWM as a "Platinum Edition" DVD.
The key is however, that these scenes need to exist. Unless a deal is made soon between Lynch and MK2, these scenes will never see the light of day.
Lynchs concerns are that if he does it, that the scenes are done right. He will not allow them to be released unless they can go through a full color correction, edit, and 5.1 sound mix. Plain and simple. To do this, it will cost a decent amount of money, as we are looking at over 55 minutes of footage, which is almost half of what it costs to mix a complete film. This is why New Line opted not to fund these scenes.
What we still need to do is keep showing our support by sending emails to MK2. MK2 needs to know that there is a large demand that will justify the large amount of money it will cost to release these scenes. MK2 has an edge on this project, as they are the owners of these scenes in the first place.
Now is the time to help spread the word. There are two emails you can send to make sure we are heard: You can send an email to:
dvd@mk2.com and to: editions@mk2.com
Keep in mind that if you already sent an email to New Line, that MK2 is a completely different company, and have NOT forwarded the requests to MK2. If you've already sent them an email, and haven't heard back from MK2 after your first email, go ahead and write them another email. Be sure to send your email to both addresses, and as always, be polite.
Those of you living in North America, make sure to ask them to make the supplemental disc a dual sided PAL/NTSC Region 0 disc.
Help spread the word. Hit all the message boards and newsgroups. Forward this to all your friends. It is very important that we show MK2 and Lynch our support for this project. Raise all hell, and lets see this finally happen.
Mulholland Drive region 4 DVD specs

Looks like all regions are getting extra goodies on their Mulholland Drive DVD except those of us in region 1. Here's the press release for the Region 4 (Australia) DVD release, scheduled for Wednesday July 10th (thanks to Adam Harding for the info):
MULHOLLAND DRIVE
AVAILABLE ON DVD JULY 3, 2002
SRP$39.95
"Mulholland Drive is unmissable…" EMPIRE
Four Golden Globe nominations including Best Picture and Best Director!
Winner of Best Director – Cannes Film Festival, Best Picture and Best Director - Boston Film Critics, Best Director - Los Angeles Film Critics, Best Picture – New York Critics and Best Director - Toronto Critics!
Starring Australia's own Naomi Watts, Marcus Graham and Melissa George MULHOLLAND DRIVE sounds simple and straightforward… But nothing is straightforward in a David Lynch film. Part erotic thriller, part fantasy, part nightmare, part enigma wrapped in a riddle – this is Lynch at his most daring, provocative and complex.
MULHOLLAND DRIVE is a mind- altering journey to the dark heart of the 'all American dream' where sinister forces lurk beneath every surface.
"Mulholland Drive, like everything, is based on ideas and we try to tune into those ideas and let them talk to us and follow them and those ideas lead to the story and the story has characters and in casting you try to get the right person for the role" explains Director Lynch.
Naïve ingenue Betty Elms (Watts) has come to Hollywood to seek fame and fortune – but she finds something much more disturb ing waiting in her apartment – a mysterious woman whose only memory is that someone is trying to kill her. What begins as a simple premise unfolds into a shattering hallucinogenic vision of what it takes to make it in Hollywood. No one comes out with their soul intact.
MULHOLLAND DRIVE DVD SPECIAL FEATURES:
Interview with Writer and Director, David Lynch
Cannes Festival – Press Conference documentary featuring David Lynch, Alan Sarde, Naomi Watts, Mary Sweeney, Angelo Badalementi, Justin Theroux and Laura Harring.
Theatrical Trailer
Dolby Digital 5.1 audio
English subtitles for the hearing impaired
Approximate Running Time: 141 minutes
Tuesday, May 21, 2002
Blue Velvet SE DVD review

DVDfile.com has a review up of MGM's new Blue Velvet Speical Edition DVD. You can read it here.
Monday, May 20, 2002
Lynch given French award

David Lynch has been given France's highest civil award, the Legion of Honour. He was presented the award by the French Culture Minister, Jean-Jacques Aillagon. "Sometimes in life you are given some wonderful gifts," Lynch said. "That's the case for me today and I am very honoured." You can read more about it here.
More Cannes Diary and Questions at davidlynch.com

Episodes 2 and 3 of Lynch's Cannes Diary are up at davidlynch.com. The first video of Lynch answering questions from site members is also online. You can find it in the "New" section on the switchboard.
Saturday, May 18, 2002
Cannes Diary on DVD?

Daily Variety is reporting that once all of Lynch's Cannes Diary segments are finished, he'll be re-cutting them together and releasing them on a DVD available though the store at davidlynch.com.
FWWM Deleted scenes news

Dugpa.com is reporting that MK2 will be meeting with Lynch at Cannes to discuss their upcoming FWWM DVD (french release). Apparently they've gotten so many emails that they really want to included the deleted scenes on the disc. So keep sending those emails to them to show them how much we want the scenes. The email address is dvd@mk2.com or editions@mk2.com. Be sure to get your friends to email as well. This is probably the last chance for them to see the light of day, and unlike New Line which was bogged down by a huge corporate entity trying to cut costs anywhere they can, MK2 is smaller and might be more willing to spend extra. Also, it looks like the release date of the disc will be pushed back from the original September one to allow more time to decide on the extras.
Mulholland DVD sales

Mulholland Drive is number 19 on VideoScan's chart this week (which doesn't include online retailers). VideoBusiness' chart (which does include online retailers) only lists the top 15, so it's off the chart there. The DVD is currently number 20 at Amazon.com, number 24 at DVDEmpire, number 8 at Express.com and number 11 at Tower. Pretty good sales all around for a Lynch film.
Thursday, May 16, 2002
French Mulholland DVD extras

Unlike its US counterpart, it looks like the French Mulholland Drive disc will be loaded with extras. Included on the two disc set are 2 making of documentaries: "Special Lynch" and "The Art of David Lynch." No word if the latter is the same as Pretty as a Picture: The Art of David Lynch or not. Also included is an interview with Angelo Badalamenti, interviews with people who've worked with Lynch, the Cannes 2001 press conference, a photo gallery and trailer. Here are the original details in French:
• Le Making Of
• 2 documentaires:
• "Spécial Lynch"
• "L'Art de David Lynch"
• L'interview du compositeur Angelo Badalamenti
• Des interviews de collaborateurs de David Lynch
• La conférence du Festival de Cannes 2001
• Un reportage photo
• Le lien internet
• La bande-annonce
• Un chapitrage aléatoire
Lynch at Cannes

The first episode of Lynch's Cannes diary is up at davidlynch.com It's available either via pay per view or at no additional charge to existing site members. The first episode features the arrival to and setup of the festival.
Wednesday, May 15, 2002
Hollywood Reporter Interview

The Hollywood Report has an interview with Lynch as a part of it's Cannes coverage. You can read it here.
BBC article on Lynch

The BBC online has an article up about Lynch heading the Cannes jury and about Lynch in general. You can read it here.
Mulholland out of US release

Mulholland Drive is now officially out of release here in the US. Its final domestic take was $7,219,578. Not a lot, but at least it made more than the Mariah Carey movie. :)
Monday, May 13, 2002
Lynch at Cannes

From the weblog section at davidlynch.com:
E-MAIL CANNES@DAVIDLYNCH.COM TO ASK DAVID LYNCH A CANNES RELATED QUESTION THAT WILL ANSWER ON CAMERA IN CANNES (IF SELECTED). VIEW CANNES SERIES AND QUESTIONS IN THE ORIGINAL SERIES SECTION SECTION. STARTS 5.14.02
Of course, that means you'll need to be a member to see the answers to the questions. If you haven't joined already, nows the time.
Thursday, May 9, 2002
Eraserhead DVD delayed

In the chat room at davidlynch.com the other night Lynch said the disc is delayed again. "DAVIDLYNCH [7:36 PM PST]: ERASERHEAD DVD --- FOLKS - I THINK YOU MUST KNOW THAT THIS DVD MUST LOOK GOOD - IN QUALITY CONTROL SOME PROBLEMS WERE FOUND --- WE ARE HARD AT WORK TO GET IT RIGHT - WHO KNOWS HOW LONG IT WILL TAKE ---- " It sounds like this will be one hell of a good looking disc when it finally comes out. Kudos to Lynch for taking the time to make sure it's done right!
New Dumbland

Episode 6 of Dumbland is now up at davidlynch.com.
Isabella Rossellini at Blue Velvet showing in NY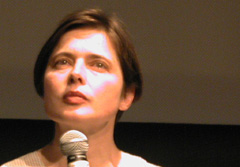 Thanks to Billy for the picture.

Last Sunday evening the Brooklyn Academy of Music showed Blue Velvet as part of the Dino de Laurentiis retrospective. It was followed by a Q & A with Isabella Rossellini. Here's a summary of the event from LynchNet reader Eric Winick:
"Draped in a white poncho-like frock, Isabella was incredibly charming, gracious, patient, giving... all those adjectives that sum up a warm, caring person. After being introduced, she took the stage alone with a microphone, and just spoke to the audience for about 10-15 minutes about her experience making BLUE VELVET. One surprise which she revealed up front she hadn't seen the film in its entirety for almost 15 years. She was quite bowled over by the response. (As was I. The film is much, much funnier than I remember it -- certainly more so than when I caught it at the Harvard Square Cinemas in Cambridge, Mass. in late 1986.) Anyway, people asked a number of interesting questions (how did she prepare for the role, what was cut from the film, how did you become interested in the role, what was it like to work with Hopper, did you deliberately make yourself look unattractive, etc) and a couple idiotic ones (some jerk asked her questions which were specifically about Lynch's idiosyncrases -- which annoyed many, as she was giving her time to this event and was not there to answer dumb questions about Bob's Big Boy)."
"All in all, a fascinating glimpse into the mind of a classy actress of whom we see far too little these days. Of course, there was quite a bit of Lynch talk (how could there not be?) and every little tidbit thrown our way was hungrily gobbled up and assimilated into our collective knowledge of The Man. Nothing new, or scandalous -- they're clearly still friends and she has a ton of respect for him."
Mulholland weekend box office

Mulholland Drive took in $1,520 this last weekend in four theaters, bringing its 30 week total to $7,219,578.
Mulholland DVD sales

Mulholland Drive is number 6 this week on Video Business' sales chart (which includes online retailers) and number 9 on VideoScan's sales chart (which does not include online sales).
Update on the new site

Just a small update. I'm still working behind the scenes to get the new Lynchnet up and running. To answer the several emails we've been getting about it, yes, all the pictures and sounds that were there before will be back up, and then some. This site will always be an ongoing process, as the LynchNet archives are very extensive and it'd take years to get all the articles up there. But I'm going to try to relaunch the site with as much content as possible and then slowly add new stuff every week after that.
Sunday, May 5, 2002
New experiments at davidlynch.com

There are two new experiements up at davidlynch.com, Bees 2 and Coyote 2. Also listed as coming soon is Lynch's Cannes diary, which will be up May 14-28. It will be available as a payperview or to members. So if you haven't joined yet, now's the time!
Saturday, May 4, 2002
TP Season 1 DVD in German - with pilot!

For those of you in Germany, Paramount will be releasing the first season of Twin Peaks on DVD on September 5. And the best news of all is, it will include the pilot! There's also a rumor of an introduction by Lynch, but I wouldn't count on it.
Friday, May 3, 2002
Mulholland DVD sales

This week, Mulholland Drive is number 6 on Video Business' chat (which includes online retailers) and number 9 on Video Scan's chart (which doesn't include online retailers) . It's only number 18 on VB's rental chat, which means more people are buying than renting Mulholland Drive on DVD. Nice to see people think it's a keeper!
Thursday, May 2, 2002
TP Season 2 DVD rumor

Several people have been emailing asking about the release date for the second season of Twin Peaks on DVD. Nothing is set yet, but the rumor is that it will be released in December, about the same time as season 1 was last year. Also, it won't be the entire second season. The season will be split into two sets. Hopefully we won't have to wait another year after the first half to wait for the second!
Eraserhead DVD delay

In the chatroom the other night Lynch said the new Eraserhead DVD is not delayed by much: "I THINK ERASERHEAD IS ONLY A WEEK BEHIND - MAYBE MAY 7"
Mulholland weekend box office

Mulholland Drive took in $3,575 in 5 theaters this past weekend, bringing its 29 week domestic total to $7,217,058.
Kyle MacLachlan marries

Kyle MacLachlan was married Saturday April 20, 2002, to publicist Desiree Gruber in a small, private ceremony at the Plymouth Congregational Church in the bride's hometown of Miami. Congratulations Kyle!
Back to the News Archives
All pages Copyright © 1995-2002 LynchNet, unless otherwise noted.
These pages contain information copyrighted by other individuals and entities. Copyrighted material displayed in these pages is done so for archival purposes only and is not intended to infringe upon the ownership rights of the original owners.