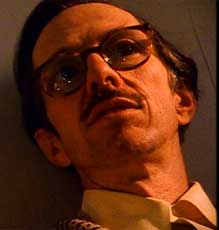 A documentary by Terry Zwigoff of artist Robert Crumb. This film is "presented" by David Lynch, though he had no actual involvement in making the film. Originally, Zwigoff asked Lynch if he wanted to help with the film. However, he was busy at the time. But Lynch agreed to give the use of his name to help promote the film.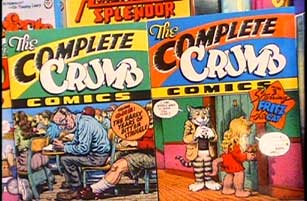 Artist, social critic, musician, cult hero. Robert Crumb is all of this and more. The father of underground comix, creator of Fritz the Cat, Mr. natural and the slogan "Keep on Truckin'," Crumb has been a significant contributor to the American cultural scene for the past thirty years. Revered as a major 20th-Century artist in Europe and Japan, Crumb's work remains readily in print, ranging from limited edition hardcovers and signed serigraphs to comic books and trading cards. But for all his notoriety and fame, Crumb the man has remained a mystery. What influenced his outrageous and highly idiosyncratic look at sexy, woman and life? Documentary filmmaker Terry Zwigoff (Louie Bluie, A Family Named Moe, Ghost World) decided to find out.
Zwigoff, a long-time friend of Crumb, persuaded the reclusive cartoonist to authorize and fully cooperate on a feature-length documentary that would closely examine Crumb's life, both private and professional.
Granted free access to the artist's family and friends, Zwigoff wound up shooting situations that were every bit as funny, frank and revelatory as Crumb's artwork itself.
Debuting at the Toronto Film Festival on September 10, 1994, Crumb opened in the U.S. on April 28, 1995. Recipient of unprecedented critical praise, Zwigoff's "Extraordinarily intimate portrayal of underground comix artist Robert Crumb" (Leonard Maltin) went on to become one of the most honored documentaries in motion picture history.
Crumb is available on both VHS and DVD from Amazon.com:

Crumb VHS

Presented by
David Lynch
Crumb DVD

• Region 1 encoding (US and Canada only)
• Color, Closed-captioned, Dolby
• Theatrical trailer(s)
• Widescreen letterbox format