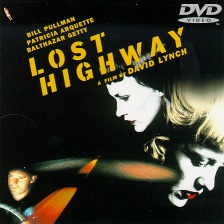 Released on VHS home video in the U.S. on August 12, 1997 The tape is available both letterboxed and pan and scan. The current list price is $19.95.
The U.S. Laserdisc was released on September 10 in letterbox format for a list price of $49.95. At this time the US DVD release is up in the air due to Universal taking on USA Film's titles. A Japanese Laserdisc is also available. The Japanese disc includes two japanese trailers, a french trailer, and a fold out jacket.
Order Lost Highway on VHS from Amazon.com:
For more information on Lost Highway DVD releases, check the Lynch On DVD page.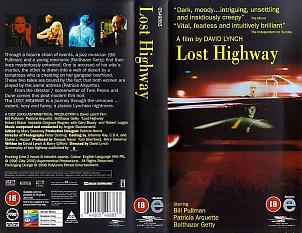 Back to the main Lost Highway page.
---
Lost Highway is copyright Lost Highway Productions, Three Pictures Production Company, Asymmetrical Productions and CIBY 2000.
These pages contain information copyrighted by other individuals and entities. Copyrighted material displayed in these pages is done so for archival purposes only and is not intended to infringe upon the ownership rights of the original owners.