Entertainment Weekly, September 28, 2001
Northern Views
Dark visions shared the screen with light comedies and dysfunctional ensembles as world events cast a shadow over the 26th annual Toronto International Film Festival
By Owen Gleiberman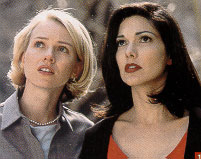 Movies, at their most poetic, can make darkness visible, or at least bring it closer. David Lynch casts a doomladen erotic spell in Mulholland Drive, a Los Angeles-set mystery that, for a lengthy stretch, stands as his most seductively creepy dream noir since Blue Velvet. The motifs are familiar (light girl and dark girl, rotting old apartments), but Lynch recombines them in new, shuddery ways. That is, until the film takes a surreal twist that might have gone straight to your head if you weren't so busy scratching it.
© 2001 Entertainment Weekly Inc.
Back to the Mulholland Drive articles page.
---
Mulholland Drive is copyright Assymetrical Productions, Canal+ and Touchstone Pictures.
These pages contain information copyrighted by other individuals and entities. Copyrighted material displayed in these pages is done so for archival purposes only and is not intended to infringe upon the ownership rights of the original owners.