Entertainment Weekly, January 18, 2002
Golden Opportunities
*Note: Only the parts of the article directly about Mulholland Drive have been excerpted
BEST ACTRESS

The real wild card here is Mulholland Drive breakout Naomi Watts. When her essentially dual performance received some of the best critical notices of the year, her handlers began constructing a supporting-actress campaign on her behalf. But after she earned several runner-up citations and an AFI non - all for lead actress - her push has now been switched to this category. Will it be too late? Judging by her landslide Best Actress victory from the National Society of Film Critics, it doesn't look like it.
BEST PICTURE
The fifth slot is even more of a wild card. Will Academy voters surprise everyone and go for the studied wackiness of The Royal Tenenbaums or the acclaimed alt-reality of Mulholland Drive?
BEST ORIGINAL SCREENPLAY
David Lynch's Mulholland Drive might strike some voters as too original...
BEST DIRECTOR
With no apparent front-runner in this category, voters may choose to honor directors whose movies don't make the Best Picture cut. So even if Mulholland Drive falls to ear the big nod, two-time nominee David Lynch could still find himself recognized for his singularly bizarre vision (that is, if the Academy can get past the film's small-screen origins).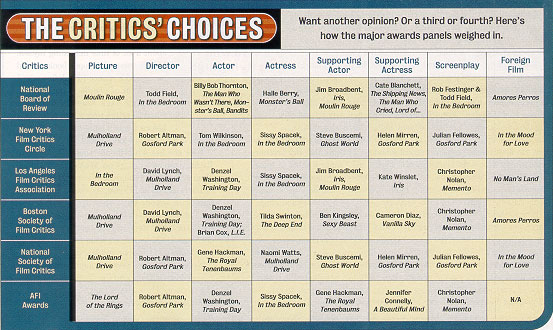 Copyright 2002 Entertainment Weekly Inc.
Back to the Mulholland Drive articles page.