Maxim Magazine - April 2002
Dangerous Curves Ahead
Mulholland Drive's Laura Harring knows a thing or two about life in the fast lane.
When people say Laura Harring gets round, rest assured she takes it as a compliment. By the time the free-spirited brunette turned 21, she had already ditched her native Mexico for boarding schools in Texas and Switzerland, practiced Tantric philosophy while doing social work in India, backpacked across virginal Philippine beaches, and finally returned stateside to become the first Latina ever crowned Miss USA. And still this bullfighter's daughter wasn't satisfied. "I didn't realize how much of a longer I was," she says in her impossible-to-pinpoint accent, "until I saw the photo of myself getting crowned, all excited to be winning, with the other contestants behind me making faces that said, 'Not her!'"
That thick skin would come in handy as Laura set off for her greatest adventure yet - a career in Hollywood. At first her va-voorn figure and pageant tiara would only earn her roles in such fizzled films as Lombada: The Forbidden Dance and the disastrous S&M comedy Exit to Eden. (Though the latter did witness her delivering the line, "Welcome to Eden, where there are exactly 30 seconds between wanting...and having.")
After several years of coming this close to a breakout role, Laura's photo attracted the unpredictable attention of seriously demented director David Lynch (Blue Velvet, Twin Peaks). The visionary madman promptly cast her in his highly praised - though thoroughly perplexing - Mulholland Drive as a mysterious woman who takes refuge with an aspiring starlet when an automobile wreck leaves her suffering from amnesia. But in a twist of fate worthy of Lynch himself, Laura actually got in a car accident on her way to meeting him for the first time."When they told me about the accident in the movie, I got tingles," she recalls. "I thought, Wow, this is some kind of omen. When I went in to meet David, he just looked me straight in the eye and kept saying, 'Good...good...good.' Finally, I started cracking up."
Though originally conceived as a TV series, Mulholland's move to the big screen gave it license to take more bold, experimental, and R-rated turns, like a stunning lesbian sex scene between Harring and her costar, the equally praiseworthy Naomi Watts. The intensity of the sequence surprised even the unflappable Laura:"I wanted to say to Naomi the next morning, "It was good for me; was it good for you?" Then, with a slow-motion smile, she acids tauntingly, "All I can say is I'm glad I had a boyfriend at the time.P>
Now that she's been consistently able to line up high-profile gigs like John Q. (with Denzel Washington) and Derailed (with Jean-Claude Van Damme), Laura's got more time to kick her love life into high gear. "Guys are usually like this with me, she says, unrolling her tongue and panting like an eager hound. "Men in Hollywood are spoiled.They just want to play, and women allow themselves to be played with. If a man touches me and I feel it's just lust, it turns me off. I need to feel cared for by a man who is confident, philosophical, spiritual. If not - see ya!" And don't make the mistake of confusing her with her bombshell Mulholland role. The typical femme fatale is satisfied with just going for it," she says. "I'm too romantic.I love being in love."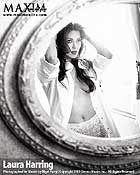 Copyright 2002 Dennis Publishing, Inc.
Back to the Mulholland Drive articles page.