From an early age David Lynch was inspired by the arts and the warm inner glow that comes with the pursuit of creative expression. An artist of many talents, Lynch not only directs, he pursues artistic expressions as a writer, a painter, still photographer, and musical composer among other endeavors. Produced during the making of the film "Lost Highway", this is more than a story about the making of a movie, "Pretty as a Picture: the Art of David Lynch" looks at how this modern day Renaissance man makes a motion picture, and examines through his artistic explorations, the very nature of creativity, its nurture and fulfillment. The making of "Lost Highway" provides the framework for a more personal story examining what inspired him to draw as a youth, to his first films, and a life-long quest for creative expression.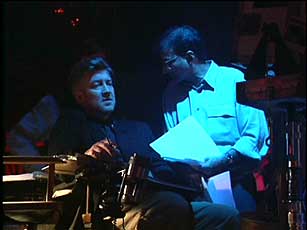 "Pretty as a Picture: The Art of David Lynch" is available in several versions on home video. This is one of the best Lynch documentaries around. There's a general release VHS version available from Fox Lorber. You can also get a limited edition version featuring Lynch's "Rat Meet Bird" painting on the cover. Order yours today from Fine Cut Presentations at http://www.finecut.com. Not only can you order the tape at this site, but you can also find tons of pictures and Lynch sound clips from the video.
Both home video versions contain over 20 minutes of new scenes and interview footage not included in the documentary as shown in the U.S. on Bravo and the Independent Film Channel.
Image Entertainment has released a DVD version that contains yet another 15 minutes of new interview footage not included on the tape versions. Included are stories from Peggy Reavy, Jack Fisk, Mel Brooks, and the story with David and Catherine of how the "log lady" came into being.

Pretty As A Picture: The Art Of David Lynch

• All Regions
• Color, Black & White
• Includes 15 minutes from interviews that were too long to be included in the home video version, plus some additional family album photos that can only be viewed on this DVD
Download the Pretty as a Picture ad AVI clip (1,747k).
Featured Interviews include:
Lost Highway cast members - Bill Pullman, Patricia Arquette, Balthazar Getty, Robert Blake, Robert Loggia, Natasha Gregson Wagner
Angelo Badalamenti - David's musical mentor
Mel Brooks - gave Lynch his big break with The Elephant Man
Jack Fisk - early friend, artistic peer and collaborator back to Philadelphia
Barry Gifford - co-writer of Wild At Heart, and Lost Highway
Jennifer Lynch - the film maker's filmmaker daughter
Jack Nance - actor in most of Lynch's films. Eraserhead's Henry
Mary Sweeney - film editor, producer, friend, collaborateure
Dean Stockwell - actor in Dune and Blue Velvet
and others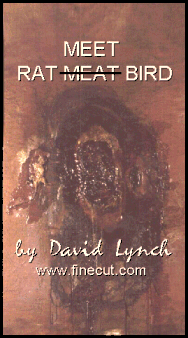 Picture courtesy Toby Keeler.
Back to the main page.
---
"Pretty as a Picture" is copyright Fine Cut Presentations.
These pages contain information copyrighted by other individuals and entities. Copyrighted material displayed in these pages is done so for archival purposes only and is not intended to infringe upon the ownership rights of the original owners.