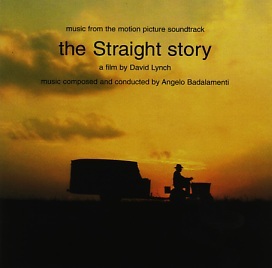 The soundtrack to "The Straight Story," featuring music by Angelo Badalamenti, was released in the US by Windham Hill Records on October 12, 1999. The following is the track listing:

Laurens, Iowa
Rose's Theme
Laurens Walking
Sprinkler
Alvin's Theme
Final Miles
Country Waltz
Rose's Theme (Variation)
Country Theme
Crystal
Nostalgia
Farmland Tour
Montage
Music Composed and Conducted by: Angelo Badalamenti
Music Published by Anlon Music Co. (ASCAP)/Bobkind Music Inc. (ASCAP)
Orchestrations by Angelo Badalamenti
Produced by David Lynch and Angelo Badalamenti
Score Recorded at Asymmetrical Studio, Hollywood, CA
Scoring, Recording and Mixing Engineer: John Neff
Mixed by David Lynch
Order the Straight Story CD from Amazon.com:

Additional music featured in the film, but not included on the soundtrack album:
"The Most Requested Song"
(From Strange Tales of the Late West)
Written by Middlejohn and John Neff
"Solo Spin Out"
Written and Performed by The Radio Ranch Straight Shooters
"Y' Ready"
Written by Spade Cooley
Performed by The Radio Ranch Straight Shooters
"Happy Times"
Written by S. Fine
Performed by Jo Stafford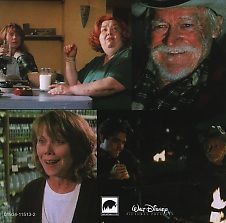 Back to the main Straight Story page.
---
The Straight Story is copyright The Straight Story, Inc.
These pages contain information copyrighted by other individuals and entities. Copyrighted material displayed in these pages is done so for archival purposes only and is not intended to infringe upon the ownership rights of the original owners.