Wild At Heart DVD Contest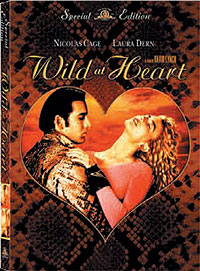 AND THE WINNERS ARE...
Diane Davidson
Daniel Gonzalez
John Gruber
Jason Allan Haase
Jung Lah
Congratulations to all the winners and thanks to all 153 people who entered! Watch for more exciting contests to come from LynchNet. Thanks to MGM Home Entertainment for providing the prizes for this contest!
Questions and Answers:
1. When Johnnie Farragut disappears, where does the note left for Marietta say he's gone?
"Gone fishing with a friend. And maybe buffalo hunting too." Any part of this was accepted as a correct answer.
2. Where does Sailor kill Bob Ray Lemon?
Cape Fear, somewhere near the border between North and South Carolina, Bay St. Clement Hotel, on the stairs. Any part of this was accepted as a correct answer.
3. What does Sailor's snakeskin jacket symbolize?
A symbol of his individuality and his belief in personal freedom.
4. Sailor realizes he belongs with Lula via a visit from what Wizard of Oz character?
The Good Witch
5. What Elvis song will Sailor only sing to his wife?
Love Me Tender
Contest Rules:
1. Your full name and mailing address must be included with your entry. (This is necessary to notify the winner, and to arrange shipping of the prizes. Specific mailing address information will be kept confidential.)
2. Only one entry per person per contest please.
3. Only one winner per family or household will be allowed.
4. Prizes will be mailed at the discretion of LynchNet. LynchNet is not responsible for the failure or tardiness of prizes delivered via US Postal Service or mail carries in other countries.
5. LynchNet is not responsible for defective prizes.
6. LynchNet, its agencies, affiliates, sponsors or representatives absolve themselves of any liability, financial or otherwise, resulting from any contests staged by LynchNet.
7. All prizes are non-transferable and void where prohibited by law. No cash substitution of prizes allowed.
8. Winners understand and agree that they are responsible for any and all taxes incurred on prizes received.
9. In the event that a winner chooses not to accept a prize, he or she forfeits all claim to that prize. LynchNet then has the right, at its discretion, to award that prize to a contest runner-up.
10. The decision of LynchNet is final. Winnerís will be notified by email.