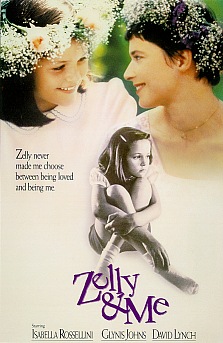 (1988)
David Lynch makes his acting debut in this film as Willie, a rich suitor. An emotionally-battered orphan has only her stuffed animals to cling to for love in this powerful, disturbing drama starring Isabella Rossellini and David Lynch in his screen debut in a major role. Set in the majestic countryside of Virginia's well-to-do, young Phoebe (Alexandra Johnes) finds herself caught between the possessive love of her doting grandmother, Coco (Glynis Johns), and the nurturing, unconditional love of her governess, Zelly (Rossellini). As Coco becomes more demanding of Phoebe's attention, subjecting her to humiliating demonstrations of loyalty, Phoebe slowly withdraws into her own little world. But when the jealous Coco begins sending everyone away who Phoebe cares for, the young girl learns that like her heroine, Joan of Arc, she must rely on her own inner voices to survive. Excellent performances and exquisite cinematography highlight this haunting story of a child caught in the crossfire of a lavish - but lethal love.
Zelly and Me was written and directed by Tina Rathborne, who later directed Episodes 3 and 17 of Twin Peaks.

Back to the main index
Zelly and Me is copyright Columbia Pictures.
These pages contain information copyrighted by other individuals and entities. Copyrighted material displayed in these pages is done so for archival purposes only and is not intended to infringe upon the ownership rights of the original owners.