March 2002 News
Sunday, March 31, 2002
Eraserhead DVD delayed

The store at davidlynch.com is reporting that the date on the Eraserhead DVD has been pushed back to April 30. After this many years of waiting for it to come out on video in the US, 30 more days is nothing.
Friday, March 29, 2002
Blue Velvet at the Brooklyn Academy of Music

Blue Velvet will be showing at the BAM Rose Cinemas as a part of their "Dino De Laurentiis: The Italian Years & Beyond" retrospective. It shows on May 5 at 2, 4:20, 6:40 and 9:50pm. There will be a Q&A with Isabella Rossellini after 6:40pm screening. For tickets visit MOVIEFONE.COM or call 718-777-FILM. (order advance tickets in a "name of movie" option; day of screening use theater express code #545)
Slow news week, but some site news.

With the Oscars over for the year, it looks like the Mulholland Drive news is starting to wind down. But not to worry, there's a major site update coming soon, with the full, new and improved version of LynchNet going online in the next couple of weeks. So watch this space for lots of new Lynch goodies coming soon.
Wednesday, March 27, 2002
BBC Radio 4 program on Alan Splet

Sunday night BBC Radio 4 ran a show about sound design in films. Most of the program was devoted to the late Alan Splet, Lynch's sound designer from The Grandmother up though Blue Velvet. You can hear the program in realaudio here.
Lynch on the Oscar's new venue

(Variety) Directing nominee David Lynch said he thought the Kodak was "fantastic," but complained, "Smokers were shunted off to a low-class area and made to feel like criminals." He admitted, however, that ''it's a lot like the Guggenheim. I looked up and saw a circle of sky.''
Fate of the Lost Highway DVD unknown

Universal Home Video says they have no information yet on the slate of films from what was formally USA Home Video. This means it's anyone's guess what will happen to the Lost Highway Special Edition DVD USA had been working on. But the transfer was already finished as were most of the extras, so it'd be silly for them to never release it. The only question is, will the original timetable for release (before the end of 2002) be kept, or will they move it later down the road. Unfortunately, catalog titles don't usually take as much importance as newer releases.
Mulholland weekend box office

Mulholland Drive took in $31,855 this weekend in 32 theaters, bringing it's 24 week box office total to $7,126,633
Monday, March 25, 2002
No Oscar win for David Lynch

As expected, Lynch didn't win the oscar for Best Directing. But still, it was an honor for him to be nominated, especially considering how down Hollywood was on him after Twin Peaks. Nice to see he's starting to get the respect he deserves again. And to end the Oscar news on a positive note, here're some pictures of Naomi Watts and Laura Elena Harring from the red carpet. Those are 1 million dollar diamond studed shoes Harring is wearing.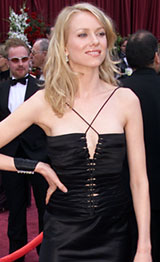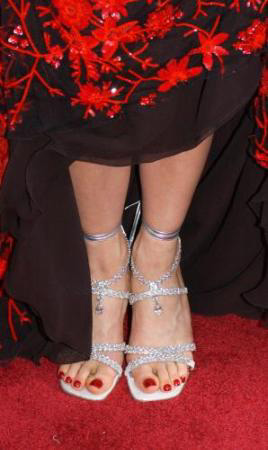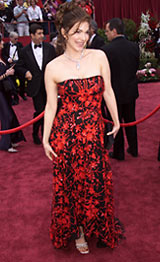 Associated Press Oscar nominations Lynch summary


David Lynch
His enigmatic films bend reality, explore the nature of identity and generally give viewers a cinematic glimpse of what their subconscious might look like.
At 56, Lynch has just nine feature films to his credit yet earned best-director Oscar nominations for three of them ("The Elephant Man," "Blue Velvet" and his current one, "Mulholland Drive").
A cult and critical favorite who made his directing debut with the macabre "Eraserhead," Lynch rarely has found favor with mainstream audiences. Many of his films and TV projects, which include "Twin Peaks," blend violence, perverse humor, dark passions, surreal images and large casts of fringe characters.
His most notable departure from that mode was "The Straight Story," a G-rated film that earned Richard Farnsworth a best-actor Oscar nomination.
"Mulholland Drive" began as a TV pilot set in Hollywood's seedy underbelly. ABC rejected it, and Lynch later retooled the story and reassembled the cast to shoot new scenes and transform it into a feature film.
The film follows a starlet wannabe (Naomi Watts) and her amnesiac new pal (Laura Elena Harring) through a maze of love, betrayal, jealousy and shifting personae. Lynch won't offer interpretations of his cryptic stories; he refers to the twisting "Mulholland Drive" simply as a "love story in the city of dreams."

Alan Splet's sounds available on cd


This isn't new news, but it got lost in the backlog of stuff we're trying to get caught up on. Alan Splet's widow and long time collaborator, Ann Kroeber, has published work from the couple's vast collection of sound effects in a three cd set called "Sounds of a Different Realm." Discs 1 and 2 feature sounds from Lynch's films. The price is kind of steep, about $300, but that's not unexpected considering these are intended for professional use. You can get more details on ordering here.

Possible bad news for future Lynch features


In totally unrelated article about Vivendi Universal, this paragraph jumped out at me:
"Vivendi Universal is expected to close StudioCanal, a division of French pay-television Canal Plus, as it consolidates the various specialty film units it owns."
Considering that they financed Lynch's last two films and probably would have any future ones, this isn't really a good thing. Let's just hope whatever new entity StudioCanal gets consolidated into is Lynch-film friendly as well.

Universal Focus folded


Boy, it's just not a good time for studios associated with Mulholland Drive. Universal Focus, who released the film in the US, is also being shut down:
NEW YORK (Variety) - Universal Pictures is folding its fledgling arthouse division, Universal Focus, which released such pictures as "Billy Elliot" and Oscar-nominated director David Lynch's "Mulholland Dr."
The move is part of Universal's efforts to consolidate its specialty divisions after its Vivendi Universal parent merges with Barry Diller's USA Networks, the owner of USA Films.
The deal, which has yet to close, would put Universal in possession of overlapping specialty film divisions USA Films, Universal Focus and French producer StudioCanal.
Universal Focus, which had about five employees, was created in June 2000 to market and distribute niche titles. Its first release was "Billy Elliot" a low-budget British drama that grossed $22 million domestically.
In addition to "Mulholland Dr.," Universal Focus had recent success with the French-language picture "The Brotherhood of the Wolf." Its most recent film, the Andie MacDowell drama "Harrison's Flowers," opened with little fanfare last weekend.
Mark Kristol and Claudia Gray, the two executive VPs who ran Universal Focus, are expected to exit within the next month.

So, how'd LynchNet do predicting the Oscars?


BEST PICTURE:
LynchNet: A Beautiful Mind
Winner: A Beautiful Mind

ACTOR IN A LEADING ROLE:
LynchNet: Russell Crowe
Winner: Denzel Washington

ACTOR IN A SUPPORTING ROLE:
LynchNet: Jim Broadbent
Winner: Jim Broadbent

ACTRESS IN A LEADING ROLE:
LynchNet: Sissy Spacek
Winner: Halle Berry

ACTRESS IN A SUPPORTING ROLE:
LynchNet: Jennifer Connelly
Winner: Jennifer Connelly

DIRECTING:
LynchNet: Robert Altman
Winner: Ron Howard


ANIMATED FEATURE FILM:
LynchNet: Shrek
Winner: Shrek


ART DIRECTION:
LynchNet: Moulin Rouge
Winner: Moulin Rouge

CINEMATOGRAPHY:
LynchNet: Moulin Rouge
Winner: Lord of the Rings: Fellowship of the Ring

COSTUME DESIGN:
LynchNet: Moulin Rouge
Winner: Moulin Rouge

DOCUMENTARY SHORT SUBJECT:
LynchNet: Sing!
Winner: Thoth

DOCUMENTARY:
LynchNet: War Photographer
Winner: Murder on a Sunday Morning

FILM EDITING:
LynchNet: Moulin Rouge
Winner: Black Hawk Down

FOREIGN LANGUAGE FILM:
LynchNet: Amélie
Winner: No Man's Land

MAKEUP:
LynchNet: Lord of the Rings: Fellowship of the Ring
Winner: Lord of the Rings: Fellowship of the Ring

MUSIC (SCORE):
LynchNet: Lord of the Rings: Fellowship of the Ring
Winner: Lord of the Rings: Fellowship of the Ring

MUSIC (SONG):
LynchNet: Kate and Leopold, "Until" by Sting
Winner: Monsters Inc, "If I Didn't Have You" by Randy Newman

SHORT FILM -- ANIMATED:
LynchNet: For The Birds
Winner: For The Birds

SHORT FILM -- LIVE ACTION:
LynchNet: A Man Thing (Meska Sprawa)
Winner: The Accountant

SOUND:
LynchNet: Lord of the Rings: Fellowship of the Ring
Winner: Black Hawk Down

SOUND EDITING:
LynchNet: Monsters, Inc
Winner: Pearl Harbor

VISUAL EFFECTS:
LynchNet: Lord of the Rings: Fellowship of the Ring
Winner: Lord of the Rings: Fellowship of the Ring

WRITING (ADAPTED SCREENPLAY):
LynchNet: A Beautiful Mind
Winner: A Beautiful Mind

WRITING (ORIGINAL SCREENPLAY):
LynchNet: Gosford Park
Winner: Gosford Park




Sunday, March 24, 2002

Mulholland wins Independent Spirit Award


Peter Deming recieved the Independent Spirit Award for Best Cinematography for Mulholland Drive. Congrats Peter!




Friday, March 22, 2002

Dumbland 5 online


Dumbland episode 5 is now up at davidlynch.com.

TechTV Lynch interview online


Lynch's TechTV interview from a couple of weeks ago is now online. It's about a 14meg quicktime movie, so those with slower dial-up connections may want to start it downloading and go grab a cup of joe while you wait. You can download it here.

Oscar predictions


Not that it really matters, but here's my predictions for who will win the oscar. The toughest one is director. I think Altman and Opie have about a 50/50 chance between them, but I'm going to give the slight edge to Altman because the academy likes to reward longevity. But I won't be surprised if Opie gets the award either.
BEST PICTURE: A Beautiful Mind
ACTOR IN A LEADING ROLE: Russell Crowe
ACTOR IN A SUPPORTING ROLE: Jim Broadbent
ACTRESS IN A LEADING ROLE: Sissy Spacek
ACTRESS IN A SUPPORTING ROLE: Jennifer Connelly
DIRECTING: Robert Altman
ANIMATED FEATURE FILM: Shrek
ART DIRECTION: Moulin Rouge
CINEMATOGRAPHY: Moulin Rouge
COSTUME DESIGN: Moulin Rouge
DOCUMENTARY SHORT SUBJECT: Sing!
DOCUMENTARY: War Photographer
FILM EDITING: Moulin Rouge
FOREIGN LANGUAGE FILM: Amélie
MAKEUP: Lord of the Rings: Fellowship of the Ring
MUSIC (SCORE): Lord of the Rings: Fellowship of the Ring
MUSIC (SONG): Kate and Leopold, Until by Sting
SHORT FILM -- ANIMATED: For The Birds
SHORT FILM -- LIVE ACTION: A Man Thing (Meska Sprawa)
SOUND: Lord of the Rings: Fellowship of the Ring
SOUND EDITING: Monsters, Inc
VISUAL EFFECTS: Lord of the Rings: Fellowship of the Ring
WRITING (ADAPTED SCREENPLAY): A Beautiful Mind
WRITING (ORIGINAL SCREENPLAY): Gosford Park




Monday, March 18, 2002

Vote for David Lynch


MSN's Guide to the Academy Awards web page has a poll (on the left side of the page) where you can vote for who should win the Best Director award. Lynch is trailing in last place, so lets see if we can help the rest of the world remember that there are other director's out there besides Opie.


Thrusday, March 14, 2002

Canadian Mulholland DVD release


TVA International will be distributing the Mulholland Drive DVD starting on April 16 in Canada. It will be the same as the US release but will also include a French 5.1 track. Here's the case art: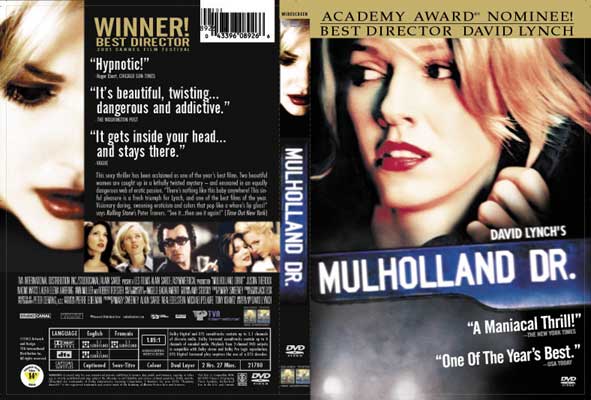 Thanks to Mark McLeod for the info and picture.
Possible delays in the Lost Highway R1 DVD

USA Home Entertainment had almost completed work on the new Lost Highway DVD, including a new transfer and extras. They had planned to release the DVD later this year. Now it looks like that's all up in the air, as Universal has decided to disolve USA Home Entertainment after they acquired them late last year. What this means for the Lost Highway DVD is anyone's guess, but it all depends on what Universal wants to do. Hopefully, given the success of Mulholland Drive, it'll give them reason to want to get the Lost Highway DVD out soon to cash in on the buzz. But you never know. Here's the full story on the demise of USA from Video Business:

Curtain falls on USA Home Entertainment
By Daniel Frankel and Jennifer Netherby
MARCH 12 | USA Home Entertainment is being dissolved as a result of Vivendi Universal's $10.3 billion acquisition of USA Networks in December, USA and Universal executives said Tuesday.
A spokesperson for Universal Studios said that the company's home video arm would begin distributing USA Films' titles beginning with the release of seven-time Oscar nominee Gosford Park. The spokesperson couldn't confirm that the title would be released on May 28, as USA has announced.
A USA Networks spokesperson added that about 20 staffers of New York-based USA Home Entertainment were informed Tuesday that they will be laid off, with others being folded into the Universal operation based in Los Angeles. Universal doesn't expect any layoffs in its home video department.
The spokesperson would not comment on the fate of Joe Amodei, president of USA Home Entertainment. However, a source close to the company said Amodei is weighing options to work with Universal Studios Home Video. "A lot of stuff is still up in the air," a USA Home Entertainment source added.
Also unclear was how distribution of USA's sports properties will be dealt with. Before Tuesday's announcement, USA officials were in talks with the NFL to renew its deal. The company also has agreements with the NBA and NHL.
Like Amodei, the fate of VP Sal Scamardo, the point man for the company's sports deals, also was undecided, sources said.
Wednesday, March 13, 2002
Commentary tracks on Blue Velvet SE DVD?

Here's an interesting bit of DVD news. In a press release from MGM Benelux (Belgium, Netherlands, Luxemburg), they state that the SE DVD release over there (September release) of Blue Velvet will be a double disc, with largely the same extra features as the announced R1 SE. But also included are two commentary tracks, one by cast and crew and another one by filmstudents. None of the US release info lists this, though since the disc doesn't street for several months there's still time for it to be added. No word though on if MGM will include this on the US DVD or not. We're trying to get in touch with them for more information, so stay tuned for more info.
Thanks to Roger Smeets for MGM Benelux release info.
Tuesday, March 12, 2002
Mulholland Weekend Box Office

Mulholland Drive took in $49,150 in 42 theaters this past weekend, bringing its 22 week box office total to $7,015,283.
Entertainment Today Lynch Articles

The website Entertainment Today has two Lynch-related articles online, an article about Lynch and Mulholland Drive, and a pretty good story detailing the whole Fire Walk With Me deleted scenes tale.
Monday, March 11, 2002 (updated)
New York Times article on Lynch

Yesterday's New York Times featured an article on Lynch about Mulholland Drive and his website. You can read it here.
News articles about davidlynch.com

Two new articles on davidlynch.com for today. First up, one from Mac Central, which goes into detail about the hardware and software Lynch is using to run the site. Second, an article from CNet.com on the site.
Mulholland "Alternative Oscar" nomination

This month's Movieline magazine has small section where they give nominations to films in catagories the Oscars overlook. Mulholland Drive received two such "honors," one for Naomi Watts and Laura Elena Harring for "Most Magical Pairing" and one for "Most Unnerving Masturbation Scene" for "Naomi Watts' tearful, angry session."
EW mentions two Lynch works in DVD article

Entertainment Weekly has an article this week on the 10 Most Wanted DVD's that are available outside the US. They list both the Twin Peaks pilot and Eraserhead. I guess they don't know about Eraserhead being available from davidlynch.com yet. Here's what they say for each:
• Twin Peaks: The Pilot Episode. Sure, the first season was released last year, but it omitted the feature-length pilot that first posited the question: What about Bob?
• Eraserhead. The hair-raising 1977 art-house breakthrough is easier to find at college-campus midnight screenings than at the video store. Pretty weird - even for David Lynch.
Actor Will Friedle is a Lynch fan

The last news item for today is from an AP news store about Will Friedle, formerly of "Boy Meets World" and currently on UPN's "The Random Years." Seems he's a big Lynch fan. Here's the quote:
"I'm a fanatic about David Lynch," Murray said. "I've got his posters of all his movies all over the place. I've watched "Twin Peaks" probably 30 times, the whole series. It's just something that interested me heavily, his world and his stuff. (I'm) just a big fan."
Thrusday, March 7, 2002
Questions about the FWWM DVD sound

Some people have been complaining about the sound on the FWWM DVD and asking if Lynch really did approve the new mix not. Here's word straight from John Neff on the new sound mix:
"The dialog track is at exactly the same level in the 5.1 mix as it is in the original. The difference is the discrete channel. David did hear it and did approve it. That is the risk when spreading a former 2-channel mix out over six is that with the extra discrete channels, things are apparently more clear.
Much depends on the listener's system as well. Many people's stereo systems were less clear than newer 5.1 channel amplifier/speaker systems. No, that is not an excuse, but if you run the specs, particularly distortion, older systems generally do not compare to newer ones.
The VHS mix is never the theatrical mix, it can't be. The tape medium will not allow the dynamic range of a film soundtrack. I remember how disgusted I was when I had to audio-compress the hell out of "The Straight Story" for VHS, TV and the airline mix. Had to do the same thing a few weeks ago for MD. For VHS, you have to raise all the real quiet parts, because the VHS tracks are noisy, and you have to knock the loud stuff down 8-10 db, so you won't distort the tape and tear up the player's cheap amplifier chips. So, all you who are criticizing the DVD as compared to a VHS, you are not starting from a proper perspective. See the film in a theatre, then compare. We spread and re-do the theatrical mix, not the sorry ass overcompressed Tv or VHS mix.
We were supposed to receive copies of the DVD from NL, but have not. We have not seen the DVD (nor have I heard it). When we finally receive our copies, I will listen carefully, then post my opinion."
Wednesday, March 6, 2002 (updated)
Blue Bob Interview

Roland's website has an interview with Lynch and John Neff about the Blue Bob CD. You can read it here.
Win Lunch with Lynch!

Here's your chance to win Lunch with the man himself at Riverside, CA Bob's Big Boy! You can enter at Lynch's site here.
Tuesday, March 5, 2002 (updated)
Mulholland weekend box office

Mulholland Drive took in $50,625 this past weekend in 45 theaters. This brings it's 21 week total to $6,945,418.
Blue Velvet Special Edition DVD available for Pre-order

Amazon.com has the Blue Velvet Special Edition DVD for pre-order for only $18.73. It streets on June 4. To recap the features, it includes a 2.35;1 anamorphic widescreen transfer and Dolby Digital 5.1 sound, extras include an all-new "Mysteries Of Love" documentary featuring rare interviews with David Lynch, Isabella Rossellini and Kyle MacLachlan, the "Are You A Pervert?" deleted scenes featurette, a still gallery, a "Siskel & Ebert" critical review of the film, and trailers. You can pre-order it here.
Mulholland Drive up for 2002 Bikkies

Bikkit.com is having a reader choice type of awards contest for the best and worst of 2001. Mulholland Drive is nominated for 6 Bikkie Awards including Best Director, Best Screenplay, and Most Memorable Scene of 2001. You can vote here.
Monday, March 4, 2002 (updated)
Lynch on TechTV

David Lynch will be on the Monday, March 4 show of 'The Screen Savers' at 7 p.m. eastern on TechTv. I haven't really figured out what TechTv is and their website is vague at best, but I think it's an online video channel. You can read more details about it here.
LynchNet reader Bill emailed with more details on what exactly TechTv is:
"It's a cable tv channel which most people probably don't get unless they have digital cable. The Screensavers show runs Monday thru Friday at 7 pm Eastern and repeats a couple hours later. It lasts for 90 minutes. It's mainly a computer show for geeks. They mostly answer questions about Windows products and show the latest tricks and gadgets. They also bring in experts related to the computer technology field, and with Lynch launching a web site, that's where his connection comes in."
Thanks for the info Bill!
Problems with Short Films DVDs

Several people have reported having problems with their Short Films DVD from davidlynch.com. Specifically, they aren't getting any video on the Amputee. Mine plays fine, so it's not all of them. If you are having this problem, contact support@davidlynch.com and I'm sure they'll take care of it.
Lynch wins César

Mulholland Drive won the prize for the best foreign film at this year's César awards, the French version of the Academy Awards. Congratulations Lynch and co. on yet another win!
Back to the News Archives
All pages Copyright © 1995-2002 LynchNet, unless otherwise noted.
These pages contain information copyrighted by other individuals and entities. Copyrighted material displayed in these pages is done so for archival purposes only and is not intended to infringe upon the ownership rights of the original owners.