Twin Peaks Books: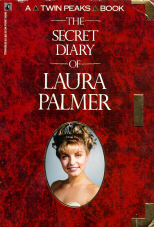 Written by Jennifer Chambers Lynch.
The Secret Diary of Laura Palmer covers the time from Laura's twelfth birthday up until seven days before she was murdered. ISBN number 0-671-73590-X. It is currently out of print, but it's been known to pop up in used books stores.
---

Written by Scott Frost.
Former Eagle Scout and lifetime audio freak Dale Cooper brings us his autobiography, culled from his private collection of personal tape recordings beginning with his thirteenth birthday. Discover the secrets, never before seen on television, of Twin Peaks' most-wanted man, who scored a perfect 100 on his marksmanship test and once let a gentle, beautiful woman lead him astray. He's Dale Cooper - the man who seems too good to be ture - and this is his story. ISBN number 0-671-74400-3. It is currently out of print, but it's been known to pop up in used books stores.
---

Written by David Lynch, Mark Frost and Richard Saul Wurman.
Created in the popular Access Guide travel book format, Welcome to Twin Peaks covers the history of the town, points of interest, events, dining, lodging, sports, fashion, town life, government, and even the townsfolk themselves. ISBN number 0-671-74399-6. It is currently out of print, but it's been known to pop up in used books stores.
---
"...Diane, a small town is not unlike a river, lots of hidden currents and eddies, each holding its own secrets. My guess, is that I haven't even broken the surface yet...Oh, one other thing, Diane, never drink coffee that has been anywhere near a fish..."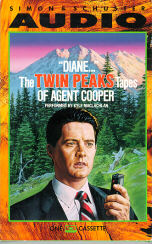 Audiobook. Performed by Kyle MacLachlan. Written by David Lynch.
Re-experience the mystery of Twin Peaks in an all new way. The Cooper Tapes. The private world of Special Agent Dale Cooper, previously reserved for one woman...Diane, including notes and stories never revealed on television. From the man in the black suit, Twin Peaks, in his own words. ISBN number 0-671-73573-X.
---
Edited by David Lavery.
Full of Secrets is a book of thirteen essays about Twin Peaks. Topics covered include politics, music, the show's cult status, family violence, and women. Also included are a director and writer list, a cast list, a Twin Peaks calendar, a complete scene breakdown for the entire series, and a comprehensive bibliography. ISBN number 0-8143-2506-8. Full of Secrets is still in print from Wayne State University Press and can be found in or ordered from most bookstores.
---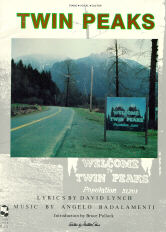 Lyrics by David Lynch. Music by Angelo Badalamenti. Introduction by Bruce Pollock.
This book contains the piano, vocal and guitar scores for much of the music from the series. Included are the scores to: Twin Peaks Theme, Audrey's Dance, The Nightingale, Freshly Squeezed, Into the Night, Dance of the Dream Man, Love Theme From Twin Peaks (Laura Palmer's Theme) and Falling. Also includes color pictures from the series. ISBN number 0-89524-613-9. The book of scores is out of print.
---

Written by Scott Knickelbine.
Get in on all the action of TV's hottest, wildest show! Welcome to Twin Peaks: A Complete Guide to Who's Who and What's What is for everyone who is captivated with the show's audacious blend of murder, romance, and humor. The entertaining, fact-filled text gives you a complete first-season episode guide along with illuminating descriptions of the characters. Dozens of photographs, a behind-the-scenes look at the creators and cast of the series, and critical interpretations that will contribute to your enjoyment of the show are included.
ISBN number 0-451-17031-8. This book was not licensed by Lynch/Frost Productions and was pulled from publication due to legal reasons. You can still find it for auction every now and then at ebay.
---
* The orgins!
* The episodes!
* The phenomenon
* The future
Creators David Lynch and Mark Frost reveal the genesis of the concept that gripped America. The cast, writers, and directors comment on every episode in exclusive interviews. A complete guide to every show. An examination of the phenomenon created by this offbeat television series. Plus an exclusive look at the future of the show. ISBN number 1-55698-284-4 This book is extremely hard to find.

---
Books by the creators of Twin Peaks:
The List of 7
Written by Mark Frost.
Follwing a bloody London seance and in the aftermath of a terrifying supernatural contact, a good doctor finds himself the target of a malevolenec born of the darkest nightmares. But with stalwart companions by his side - including an extraordinarily intrepid investigator - he seeks to expose a dastardly band of nefarious criminals and a chilling conspiracy aimed at the heart of England's future...and instead unearths a crime far more horrible than murder and experiences an adventure beyond the limits of imagination. ISBN number 0-380-72019-1.
The List of 7
is still in print and can be found in most bookstores.
---

Written by Mark Frost.
Ten years have passed since Doyle first met the brilliant Jack Sparks and together they cracked the deadly case of The List of 7. Inspired by his friend, Doyle went on to create Sherlock Holmes, the celebrated man. Now off to America for his first book tour, Doyle is joined by a cryptic Irish priest. During their voyage across the Atlantic, the men are stalked by an otherworldly order of assassins attempting to steal a precious piece of the ship's cargo: a priceless book of ancient mysticism.
The Book of Zohar is the first piece of a lethal puzzle that will draw Doyle across the burgeoning young nation. From the filthy slums of lower Manhattan to the dark alleys of Chicago to a final apocalyptic confrontation in the searing Arizona desert, Doyle and his companions track the paths of six mysterious strangers who are united by a single, eerie dream. A dream of a black tower rising out of a wasteland - and a river of blood. As their trails converge at the source of this terrifying vision, Doyle and company confront an evil so dark and profound that it threatens to obliterate the very fabric of the world. ISBN number 0-688-13092-5. The 6 Messiahs is out of print but can be found used at amazon.com.
---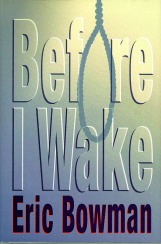 Written by Mark Frost under the pseudonym of Eric Bowman.
A brillian novelist with a murderous past torments a New York City detective in this highly original thriller set in Manhattan and Miami.
National TV news anchor Mackenzie Dennis takes a dive from his Upper East Side apartment, and his suicide seems confirmed by the videotaped message he leaves behind - until homicide detective Jimmy Montone examines the tape and discovers the shadow of a hangman's noose on the wall. Piecing together the evidence, Montone proves the anchorman didn't jump; he was pushed. The case swerves unexpectedly closer to home when a beautiful model intimate with Montone is found hanged, having left behind a similar taped suicide message.
When retired Scotland Yard inspector Peter Henshaw contacts Montone to warn him about Terence Keyes, the British writer who had been riding along with the detective to research a book on police procedure, Montone is at first incredulous. But troubling secrets from Keyes's past mesh with what Montone knows about the "suicide" murderer. Could the polished, genteel Keyes be the killer? Or is Henshaw simply a zealous retiree with too much time on his hands?
Montone is left to puzzle it out, unaware that he himself is the killer's ultimate target.
Before I Wake is a psychological study in suspense, a tour de force as diabolically clever as the killer at its center. ISBN number 0-399-14263-0. Before I Wake is out of print but can usually be found used from amazon.com.
---

By David Lynch. More information can be found on the Images David Lynch page.
Back to the main Twin Peaks page.
---
Twin Peaks, characters, names and pictures on these pages are trademarks of Lynch/Frost Productions and Twin Peaks Productions.
These pages contain information copyrighted by other individuals and entities. Copyrighted material displayed in these pages is done so for archival purposes only and is not intended to infringe upon the ownership rights of the original owners.