Twin Peaks Star Pics Card 43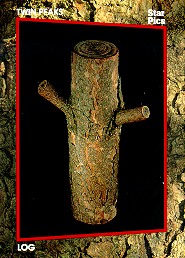 The Log
Episode:
All
Significance:
The Log is from a Ponderosa Pine, which is indigenous to the Northwest. It is a highly prized tree. The Log is from a lateral branch, and The Log itself is 8-9 years old. Ponderosa Pines are slow-growing trees and take 350-500 years to reach maturity. They are drought resistant.
The Log was given to Margaret by her former woodsman husband as a wedding gift. Margaret's Log strengths are its special spirit/life force and, of course, its great insight. Its greatest weaknesses are fire and bark beetles.
Back to the Twin Peaks Cards page.
---
Twin Peaks, characters, names, pictures and sounds on these pages are trademarks of Lynch/Frost Productions and Twin Peaks Productions. These pages contain information copyrighted by other individuals and entities. Copyrighted material displayed in these pages is done so for archival purposes only and is not intended to infringe upon the ownership rights of the original owners.