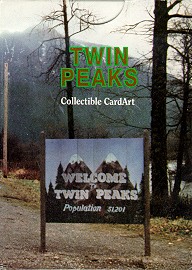 Twin Peaks Star Pics Cards
In 1991, Star Pics issued a series of Twin Peaks trading cards. Some boxed sets of all the cards even contained a signed card by one of the Twin Peaks actors.
*Note: Some of the cards contain factual errors. For instance, card 67 says Windom Earle is being sent to Twin Peaks to conduct the FBI investigation on Cooper. But of course, it was Dennis/Denise Bryson. The information is presented here exactly as it is listed on the cards. But take it with a grain of salt.
Cards:
Checklist (you're reading it now!)
Back to the main Twin Peaks page.
---
Twin Peaks, characters, names, pictures and sounds on these pages are trademarks of Lynch/Frost Productions and Twin Peaks Productions.
These pages contain information copyrighted by other individuals and entities. Copyrighted material displayed in these pages is done so for archival purposes only and is not intended to infringe upon the ownership rights of the original owners.