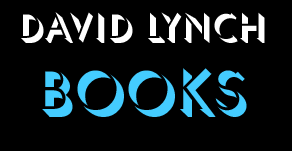 *Note: This page is for Books about David Lynch. For information on Lynch's Images book, go here. All books relating to Twin Peaks are on their own Twin Peaks books page. Books on this page are listed in the order LynchNet feels they are worth (i.e. must have books are listed first).
---


Lynch on Lynch
By Chris Rodley (Editor)
ISBN 0-571-17833-2 (US)
In this volume, David Lynch speaks openly not only about his movies, but also about the full range of his many activities: a life-long commitment to painting; his continuing work in photography; his extensive work in television; and the musical collaborations with Julee Cruise and Angelo Badalamenti.
This is by far the best Lynch book out there, mainly because it's in Lynch's own words. If you can only buy one Lynch book, this is the one to go for. It also contains the most complete filmography of any of the Lynch books, only omitting Lynch's works after Lost Highway.
The French edition also contains color pictures taken from Lynch's films, his photographic works and his private photo collection.
You can purchase Lynch on Lynch from Amazon.com here.
Thanks to Tommi Seitajoki for the Finnish Lynch on Lynch cover. Thanks for Romain Brian for the French cover and information. Thanks for Jose Burnette for the Spanish cover.
---

The Complete Lynch
By David Hughes
Virgin Publishing; ISBN: 0753505983
A handy guide to everything Lynch, broken down by each work. Covers everything up through the TV version of Mulholland Drive. Sections on each work includes a cast list, summary, quotes and various bits of trivia about the work, and more. A really good starting place for new Lynch fans and a handy reference for long time fans.
You can order The Complete Lynch from Amazon.com here.
---

The Passion of David Lynch : Wild at Heart in Hollywood
By Martha Nochimson
ISBN I029275566X (hardcover), ISBN 0292755651(paperback)
An in depth academic study of Lynch's works. Covers everything up through Lost Highway. In Nochimson's own words, "My book traces the path of Lynch's heroes, as they face the violence inside and outside themselves and learn its essentially self-defeating nature. Lynch's heroes brave the perilous regions of the lower subconscious - which Lynch calls the toxic areas -in order to arrive at what Lynch has described to me as the finer, higher parts of the subconscious that yield vision and insight, our real strength. Those who wonder how this portrait of Lynch's modus operandi applies to his films, especially the dark and troubled Lost Highway, read on!"
You can order The Passion of David Lynch from Amazon.com here
---

David Lynch
By Michelle Le Blanc, Colin Odell
Pocket Essentiials; ISBN: 1903047064
A quick guide to Lynch's works. Covers up through The Straight Story. Includes an introduction to Lynch, as well as each of his works analyzed and reviewed. Also included is Lynch's impact on the film industry, and a reference section listing all the far weightier (and more expensive) books on the subject. This is a good entry-level books.
You can order David Lynch from Amazon.com here.
---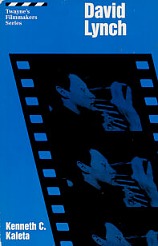 Twayne's Filmmakers Series:
David Lynch
By Kenneth Kaleta
ISBN 0-8057-9323-2
The Twayne Fillmmakers Series examines the full panorama of motion picture history and art. The Lynch book covers the period from Lynch's early days up through "Wild At Heart" (though "Fire Walk With Me" is briefly mentioned). Each of Lynch's main films gets a chapter. There is a brief bibliography of Lynch's work as well.
You can order David Lynch from Amazon.com here.
---

David Lynch
By Michel Chion
ISBN 0-85170-456-5
Translated from French
Twin Peaks, Blue Velvet, Wild at Heart and Eraserhead have turned David Lynch into an American cult figure. This lively book is the first comprehensive account of the only director to have a smash hit TV series in the same year as winning the Golden Palm at Cannes.
A good book on Lynch. While I don't agree with all of Chion's theories, this book contains a very complete list of Lynch's work out there, including television programs and commercials.
The French version is published by Cahiers du Cinéma under the "Auteurs" collection.
Thanks to Omer for the French cover and info.
This book is currently out of print.
---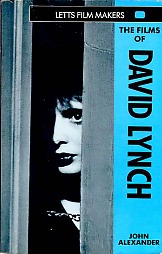 The Films of David Lynch
By John Alexandar

Part of the Letts Film Makers series. This book was released in the UK.
This book is currently out of print.
---

A Strange World
By students from the University in Kiel, Northern Germany
A German book. Includes:
-dream structures
-sounds/noises
-architecture
-elements of "film noir"
and many more.
---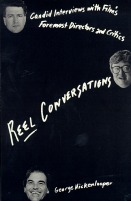 Reel Conversations
By George Hickenlooper
ISBN 0-8065-1237-7
A book of interviews with 25 directors and film critics, including a 14 page interview with Lynch done around the time of Twin Peaks. Other directors include Dennis Hopper, David Cronenberg, Francis Coppola, Martin Scorsese and Robert Wise.
This book is currently out of print.
---

A Supposedly Fun Thing I'll Never Do Again
By David Foster Wallace
ISBN 0-316-91989-6
This book of Essays includes "David Lynch Keeps His Head," an essay on Lynch and the making of Lost Highway. It also discusses Lynch's vision of filmmaking. For the most part this is the same article as was featured in the Sept. 1996 Premiere magazine.
You can order A Supposedly Fun Thing I'll Never Do Again from Amazon.com here.
---
David Lynch
By Georg Seesslen
The German film scholar studies David Lynch
---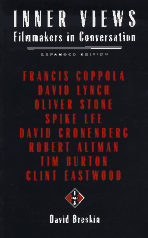 Inner Views : Filmmakers in Conversation
By David Breskin
ISBN 0306808013
A book of interviews on several top filmmakers. Chapter two is on David Lynch. Other directors include Francis Coppola, Oliver Stone, Spike Lee, David Cronenberg, Robert Altman and Tim Burton
This book is currently out of print.
---

Weirdsville U.S.A : The Obsessive Universe of David Lynch
By Paul A. Woods
ISBN: 0-85965-255-6
Weirdsville USA charts Lynch's work from the experimental art school years and the Midnight Movie hit Eraserhead, the mainstream success of The Elephant Man and the resounding failure of Dune - through the Weird Americana prototypes of Blue Velvet and Twin Peaks, the heyday of the "Lynch Mob", and the fall from fashionable grace - to the present day, where the neo-noir mystery Lost Highway is accompanied by a spurt of cinematic activity, plus new fine art and musical projects.
Weirdsville USA also includes many anecdotes and quotes, a look at Lynch's personal life away from the camera, film analysis and film stills. Unfortunately, this book is full of factual errors.