April 2002 News
Saturday, April 27, 2002
Blue Bob listening party at Apple.com

This weekend Apple.com is hosting a listening party of Lynch and John Neff's album "Blue Bob." You can get to it by going here or by opening your Quicktime player.
Rabbits goes online June 7 at davidlynch.com

The first episode of Lynch's new series, Rabbits, will be going online at davidlynch.com on June 7. Rabbits is a 9 episode sitcom featuring Naomi Watts, Laura Elena Harring, and Scott Coffey.
Mulholland #3 on DVD sales chart

In it's first week of release, Mulholland drive came in at #3 on the Video Business' DVD sales chart. Unlike Videoscan's chart, this one does include online retailers. The number 1 and 2 positions were held by the widescreen and pan and scan versions of Spy Game, so if you consider them as one title, Mulholland Drive was the second best selling film on DVD that week. Nice to see a Lynch title selling well for once. In it's second week, Mulholland Drive fell to #5 on the chart, but it's still holding in pretty well considering most Lynch fans probably bought it the first few days it came out.
Friday, April 26, 2002
Premiere Mulholland DVD review and Blue Velvet article

This month's Premiere magazine has both a DVD review of Mulholland Drive (well, actually they mostly just review the film again) and a brief article on Blue Velvet.

Mulholland Drive DVD makes it into the top ten

Sales of the Mulholland Drive DVD have been good. Unlike Fire Walk With Me, which sadly failed to even make it into the top 20, Mulholland Drive has come in at number 5 for it's first week on VideoScan's sales chart. VideoScan doesn't track internet sales, so this chart counts for about 50% of the total DVD sales.
Movieline Breakthrough of 2001 Awards

This month's Movieline magazine has highlights from their Breakthrough of 2001 Awards. Naomi Watts was honored for Best Female Breakthrough Perforance. You can read the article here.
Blue Velvet DVD ad

Thursday, April 25, 2002
Mulholland weekend box office

Mulholland Drive took in $4,305 in 7 theaters this weekend, bringing its 28 week domestic total to $7,212,548.
Monday, April 22, 2002
Blue Velvet SE DVD specs

Blue Velvet (Special Edition)
ID: MGM1003504DVD - $24.98 - R
UPC: 027616876546 - 120 min. - 1986
Preorder: 4/30/2002 - MGM/UA
Street: 6/4/2002 - Mystery/Suspense
16x9 - 2.35:1 - English - 5.1 Dolby Digital, Mono, Stereo - Dubbed Language(s): French, Spanish - Subtitle(s): English, French, Portuguese, Spanish - CC - Region 1
Brad Dourif, Dean Stockwell, Dennis Hopper, Frances Bay, Hope Lange, Isabella Rossellini, Jack Nance, Kyle MacLachlan, Laura Dern - Director: David Lynch
Cleancut college boy Jeffrey finds his Mayberry-like hometown is not so normal when he discovers a human ear in a field. His investigation catapults him into an alluring, erotic murder mystery involving a disturbed nightclub singer and a drug-addicted sadist. Soon Jeffrey's led deeper into their depraved existence finding himself obsessed with this dark, enigmatic underworld, to the point of no return.
"Are You a Pervert?" Deleted Scenes Featurette; Photo Gallery; "Mysteries of Love" Documentary Featuring Rare Interviews with David Lynch, Isabella Rossellini, Kyle MacLachlan and Other Cast & Crew; Siskel & Ebert Critical Review
Nadja DVD discontinued

If you've been meaning to pick up a copy of Michael Almereyda's "Nadja" on DVD and haven't had a chance to yet, you might want to now, as it's going out of print. Nadja is produced by Mary Sweeney and executive produced by Lynch. Lynch also has a small camio as the morgue receptionist in the film.
Friday, April 19, 2002
Lynch lashes out at Messier

From The Guardian:
Claire Cozens
Thursday April 18, 2002
Film director David Lynch has joined the growing campaign against the Vivendi chief executive, Jean-Marie Messier, saying the sacking of Pierre Lescure will lead to a "McDonald's-style standardisation" of cinema and television.
The critically acclaimed director said the decision to fire Mr Lescure as the chief executive of Canal Plus marked the end of a golden era, which had brought together an independently minded European film producer and the best of a Hollywood studio.
"That's all finished now. We are entering an era of standardisation and of mass-produced cinema," he says in an interview with French newspaper Le Monde.
Lynch's last two films, Mulholland Drive and The Straight Story, were produced by Canal Plus's film arm, StudioCanal.
As the president of this year's Cannes film festival and the winner of last year's best director award for Mulholland Drive, Lynch has a particular interest in the health of the French film industry.
He said his role as jury president would take on added significance following the departure of Mr Lescure and expressed concern that a "certain kind of cinema" could disappear along with its champion at the pay TV company.
StudioCanal has a long history of backing successful but offbeat films; recent credits include Billy Elliot and The Others. The company also has a three year film deal with Mike Leigh, the director of Secrets and Lies.
Describing Mr Messier as "charming and intelligent", Lynch said the French businessman must have had his "head turned by the Californian sun" and the lure of Hollywood-style profits.
"France has an incredibly strong tradition of film-making, helped by a regulatory system that has permitted it to retain a local industry," he said. "If I were French I would be scandalised to see that system come under threat."
Lynch added that Mr Lescure's replacement, former TF1 head Xavier Couture, would be unlikely to fit in at Canal Plus because TF1 was its polar opposite.
"I can't see how those two cultures will be reconcilable," he said, adding: "Why was it necessary to replace Pierre Lescure anyway?"
More than 250 celebrities have turned out in support of Mr Lescure, including the footballers Nicolas Anelka, Patrick Vieira and Emmanuel Petit, the actors Juliette Binoche and Charlotte Gainsbourg and the Bosnian film director Emir Kusturica.
Lost Highway's Robert Blake Arrested in Wife's Murder

By Dan Whitcomb
LOS ANGELES (Reuters) - Actor Robert Blake, the tough cop on the hit TV show "Baretta," was arrested on Thursday in the shooting death of his wife with local television networks breaking into regular programming as if to herald a new celebrity murder case in the land of O.J. Simpson.
Blake, a former child star of the "Our Gang" comedies who gained fame as the gruff, gritty Tony Baretta in the 1970s detective series, was shown being led from a relative's home in suburban Hidden Hills to an unmarked police car in a white T-shirt, green cap and handcuffs for the long ride to downtown police headquarters.
Officers also arrested his bodyguard, Earl Caulfield, in connection with the May 4, 2001 murder of Blake's wife, 44-year-old Bonny Lee Bakley, as she sat in the 68-year-old actor's car on a dark street not far from his favorite restaurant.
Television helicopters followed a white, unmarked police car as it carried Blake along busy Los Angeles freeways, a scene that eerily recaptured the slow-speed chase and arrest of former football star Simpson on June 17, 1994, five days after his ex-wife and her friend were stabbed to death.
Simpson's was ultimately acquitted of the crimes by a Los Angeles jury, but a civil court panel found him liable for the deaths and ordered him to pay victim's family members $33.5 million in damages.
Blake's high-profile attorney, Harland Braun, has steadfastly maintained his client's innocence and portrayed the New Jersey-born, Arkansas-raised Bakley as a greedy lifelong grifter who preyed on men through lonely-hearts schemes and spent time in jail.
That defense infuriated her relatives, who accused Braun of trying to destroy Bakley's reputation and get his client acquitted by tainting the jury pool. The couple fought over custody of their three-year-old daughter, Rose.
POLICE MOVE SLOWLY
Blake, who in recent years has kept out of the limelight, dined with Bakley at his favorite restaurant, Vitello's, on the night of her death and has told police that he left her sitting in his sports car while he went back to the Italian eatery to retrieve something he had left at their table: his gun.
He said he returned to the car to find her dead in the passenger seat, apparently shot at close range by a gunman who fled into the night. Blake and Braun have insisted that Bakley may have been killed by a boyfriend or one of the many men they claimed she had bilked out of money in con schemes.
Police, who were criticized for failing to solve Bakley's murder sooner and were presumably still smarting from Simpson's acquittal, did not immediately reveal what evidence they had uncovered that led them, after almost a year, to arrest Blake.
Blake's home and the separate house on his property that his wife lived in have been extensively searched several times and he had been interviewed at length by detectives.
He has also submitted to tests for gunshot residue on his hands and clothing.
Blake, who appeared in 127 films, was acclaimed for his portrayal of killer Perry Smith in 1967's "In Cold Blood," based on Truman Capote's book of the same name.
That film documented the murder of the Clutter family of Kansas. His most recent films include "Money Train" in 1995 and David Lynch's "Lost Highway" in 1997.
Since the murder, Blake put his Los Angeles home on the market for more than $1 million.
Braun said, "It's a house that no longer has great memories for him, and he wants to move out to the San Fernando Valley to be near his daughter."
Thursday, April 18, 2002
Darkened Room up at dl.com

Lynch's new short film "Darkened Room" is up at davidlynch.com. I won't spoil the fun by telling you where it is, but I'm sure you'll be able to solve the puzzle of it's location (hint, hint).
Cannes jury announced

The rest of the jury for the Cannes Film Festival next month, of which Lynch is jury president, as been announced. Other jury members for the Palme d'Or are actresses Sharon Stone and Michelle Yeoh, Indonesian actress Christine Hakim, French directors Claude Miller and Regis Wargnier, Danish director Bille August, Chilean-born director Raoul Ruiz and Brazilian director Walter Salles
Mulholland weekend boxoffice

Mulholland Drive took in $6,435 this past weekend in 9 theaters, bringing its 27 week total domestic box office to $7,203,833
Monday, April 15, 2002
Reason for the Eraserhead DVD delay

It seems Lynch and co. are still working on the compression for the disc. The first tries haven't come out to Lynch's satisfaction, so they are trying another one. Nice to see someone who really cares about the quality of their disc for once. I don't mind the wait one bit if it means we'll get the highest quality possible. Kudos to Lynch!
LynchNet Mulholland DVD review

We finally have our review up of the Mulholland Drive DVD. You can read it here.
The Mulholland blurring issue that refuses to die

Seems this issue has blown up into something everyone is talking about. So here's the whole thing in a nutshell. Lynch added digital blurring to Laura Harring's nude scene for the video version of Mulholland Drive. That is a fact - it is there on the DVD, but wasn't in the theater. Now for the reasoning for it:
Lynch stated in the chatroom on dl.com: "WE DID THAT BLURRING FOR THE DVD ON PURPOSE AS WE KNEW THAT PICTURES OF LAURA WOULD BE EVERYWHERE IF WE DIDN'T." And later he added, "FIRST - IF THE SHOT IS TIMED CORRECTLY YOU SHOULD NOT BE ABLE TO TELL ONE BIT IF LAURA'S PUBIC HAIR HAS BEEN BLURRED - THIS PROBABLY MEANS SOME VIEWERS ARE EXPERIMENTING TO SEE LAURA'S PUBIC HAIR AND MORE ..... THIS IS WHY THE PICTURE WAS BLURRED - I PROMISED LAURA THAT I WOULD TRY TO PROTECT HER AS MUCH AS POSSIBLE AND TOLD HER SHE WOULD REMAIN A BEAUTIFUL SILLOUETTE AGAINST THE WARM LIGHT COMING IN THROUGH THE CURTAINS."
Lynch is somewhat incorrect here, as while if your set is properly calibrated you won't see the blurring, on your average crappy television from WalMart, with the DVD player hooked up via the antenna connector, the brightness and quality is such that the blurring jumps right out at you, no "experimenting" is needed. Unfortunately, not all Lynch fans can afford expensive TVs. Still, if you have even a moderately good TV and have it hooked up by the composite in's or better, you should be able to calibrate your set to look properly. You can buy DVDs such as Video Essentials or AVIA Guide to Home Theater for this job, or just pick up a copy of Lynch's short films DVD from his store, which includes some video calibration tests at the end. Once you have your set correctly calibrated, the blurring shouldn't be visible as Harring will indeed appear in silhouette.
Getting back to the reasons for the blurring addition, John Neff added on the discussion board: "Laura agreed to a scene which would be timed down and printed very dark, so everything was kinda-maybe-sorta visible, but in deep shadow, with no details visible. As well, on the theatre screen, you view it and it's gone. Once the picture is digitized, however, all bets are off, and you can capture it, tweeze it, time it up, stare at it. This made Laura very uncomfortable. As a courtesy to her, and as to not embarrass her, David made it so the picture cannot be manipulated in that way. If you think you've got a right to freeze and blow up, lighten up an image and alter it from the way it was meant to be seen, just because you bought the DVD, you're wrong. Dave did this to protect Laura's sensitivity about this, and to prevent unauthorized frontal nude shots of her from being distributed on the Internet. I agree with him and feel it is right for her. Please respect that." He also states that her contract called for "silhouette, darkened only" for the nude scene.
So it looks like it was done both to protect Harring and also for contractual reasons.
DVDfile reviews Mulholland DVD

DVDfile.com has reviewed the Mulholland Drive DVD. They have mixed feelings about the film, and are particularly upset about the lack of chapter stops (I haven't figured out why that one upsets people so much). You can read the review here.
An amusing Mulholland review

Here's a review of Mulholland Drive from "Kids-in-mind," one of those sites that tell parents which movies are safe for kids. They detailed Mulholland Drive pretty closely - kind of makes you wonder how many times they sat through the film trying to see if they could see up Rebekah Del Rio's skirt. My personal favorite line: "a woman flips and exposes some thigh." The horrors!! :)
Tuesday, April 9, 2002
Digital blurring on the Mulholland DVD

Here's the final word on the digital blurring of Laura Harring's private parts on the Mulholland Drive DVD from Lynch himself:
DAVIDLYNCH [5:30 PM PST]: WE DID THAT BLURRING FOR THE DVD ON PURPOSE AS WE KNEW THAT PICTURES OF LAURA WOULD BE EVERYWHERE IF WE DIDN'T
So there you have it, it was Lynch, not Universal, who was responsible. Personally I don't agree with his decision (though it doesn't detract from the scene at all), but it's his film so I respect his right to do with it what he wants.
Mulholland weekend box office

Mulholland Drive took in $18,810 this weekend in just 19 theaters, bringing its 26 week total to $7,191,513.
Mulholland DVD review soon

I finally received the screener of Mulholland Drive in the mail today (just one day before the street date anyway - oh well). The review should be posted later this week, but in summary the disc looks really good, though there are a bit more compression artifacts than I'd like to see. More details in the review later this week.
Monday, April 8, 2002
A few words

Things are slowing down in the Lynch news department, so updates to the news page will probably become less frequent. We're using this time to get ready for the new site launch, which hopefully will be coming in the next few weeks.
Mulholland Drive DVD tidbits

The Mulholland Drive dvds have been shipping for the past week now from various retailers. First, it appears there are two different versions of the cover art, just as there was with the movie poster. One features Diane, as seen in the picture on the Canadian cover art further down the page. The other features Rita, as seen on most of the pictures here. I guess they wanted to make those of us who are Lynch collectors buy the disc twice. :)
In other Mulholland DVD news, a few people have reported digital blurring of Rita's privates in the scene where she takes off her robe. This was certainly not present in the theatrical version. There's always the possibility that this is just compression artifacts that happen to be in that spot, but nothing is certain yet. We'll be reviewing the disc later this week to check it out, and if it is present will get a response from Universal Home Video on why it was added.
Wired Magazine davidlynch.com article

Wired has a short article on davidlynch.com in this month's issue. You can read it here.
FWWM DVD article in Total Movie

This month's issue of Total Movie Magazine has an article on the new Fire Walk With Me DVD, including comments from the cast on the lack of deleted scenes. You can read the article here.
Naomi Watts in Vanity Fair

Vanity Fair Magazine has an article this month on the actresses to watch in 2002, including Naomi Watts. You can read it here.
Laura Harring in Maxim

Laura Elena Harring is featured in this month's Maxim Magazine. You can read the article and download the pictures here.
Mulholland and FWWM DVD reviews

The Digital Bits has a review of both the new Mulholland Drive DVD and the Fire Walk With Me DVD. It's not a very knowledgeable review, and like many of the FWWM ones they mistakenly presume to know Lynch's intentions regarding the soundtrack. Still, it's a mostly favorable review. You can read both of them here.
Two more Mulholland DVD reviews

Currentfilm.com has two reviews of the Mulholland Drive DVD here and here.
New Laura Harring Project

From the Hollywood Reporter:
Harring on rat patrol in 'Willard'
April 05, 2002
Laura Elena Harring, whose million-dollar diamond shoes were the talk of the red carpet at this year's Oscars, is ready to step into a new role as the female lead in New Line Cinema's "Willard." Fresh off her roles in "Mulholland Drive" and "John Q.," Harring has been cast opposite Crispin Glover in the remake of the classic 1971 horror film. Harring will play the girlfriend of Willard, an outcast whose only friends are his pet rats. When one of the rats gets killed at Willard's work, he goes on a rampage and uses his "friends" to help exact revenge. "Willard" is being written and produced by "The X-Files" alumni James Wong and Glen Morgan, the latter of whom will direct. The remake is being overseen by New Line executive vp production Richard Brener. Harring is repped by ICM. (Josh Spector)
Wednesday, April 3, 2002
DVDfile reviews Short Films DVD

The folks at DVDfile have reviewed the Lynch Short Films DVD and gave it pretty good marks. You can read the review here.
Tuesday, April 2, 2002
Back to the real news

We hope you enjoyed yesterday's April Fool's edition of the the Lynch news update. Back to the real news today...
Eraserhead DVD delayed

In case you didn't catch it in the update over the weekend, the store at davidlynch.com is reporting that the date on the Eraserhead DVD has been pushed back to April 30. Considering some of the problems people have reported with the Short Films disc, they probably wanted to make extra sure that this one works correctly.
Laura Harring's Oscar Shoes

A small tidbit from this week's Entertainment Weekly"
Red Harring: Mulholland Drive star Laura Elena Harring wore Stuart Weitzman's $1 million sandals. But there was another foot first: Jada Pinkett Smith was to wear the shoes, but begged off March 19 due to a foot injury. When Harring's stylist, George Blodwell, called, Weitzman was game. "[Stuart] saw her naked foot [in the film] and said 'Those are the feet that should be wearing my shoes!'" says Weitzman's rep.
Monday, April 1, 2002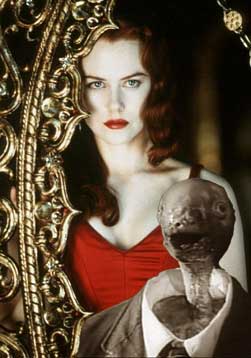 Baz Luhrmann and Nicole Kidman re-team for "Eraserhead: The Musical"

Twentieth Century Fox announced today that they have acquired the rights to David Lynch's cult favorite, "Eraserhead," and are turning it into a musical, helmed by Moulin Rouge director Baz Luhrmann. Luhrmann has already announced that he has cast Rouge lead actress Nicole Kidman in the role of Mary X.
"It was Baz himself who really pushed for us to acquire the rights and greenlight this film," Fox Vice President of Creative Productions Stu Pidity stated at a press conference officially announcing the project. "My single mission was to find a way to make musical cinema work again for this time and this place. Now that I've reinvented the musical, I want to start adapting many older films to this new format. When they asked me what film I'd like to remake first, Eraserhead was the obvious first pick," Luhrmann told reporters.
The rest of the cast has not been announced yet, but rumors are that Hugh Grant, Russell Crowe and The Rock have all been mentioned as possibilities for the lead role of Henry. Former 90210 star Tori Spelling is the rumored front runner to play the girl across the hall.
George Lucas' ILM has been tapped to do a cgi version of the baby. "It was a real challenge to animate something that has to dance a lot, but thanks to our work on the character of Jar-Jar Binks in Phantom Menace, we had a good starting place to work from. The baby will have many of the same mannerisms" ILM lead animator Sarah Tonin stated.
Newly Academy Award Winning composer Randy Newman will be joining the creative team to write songs for the project. "We loved his work in the Disney films and thought he was the natural choice for Eraserhead" Luhrmann said. "He already has five songs written...he was so excited!" New songs written for the film include "My Baby And Me," a dance number between Kidman and the the baby, "Not Just Regular Chickens," a number that takes place at a dinner scene and features a chorus line of dancing chickens, and "Don't Go Erasing My Head," the final number with the entire cast.
Filming is expected to start in the Summer with hopes of a Christmas 2002 release.
New Line releases Fire Walk With Me deleted scenes

New Line Cinema, fed up with both the cost of acquiring the FWWM deleted scenes from the French rights holder and the cost of paying for Lynch's time to remaster them, has hit upon a unique idea to try to quiet the rumbles of dissatisfaction from Lynch fans with the current DVD release. Over the next few months, interns from their marketing department will be given DV cameras to go out and film new versions of the deleted scenes. New Line Vice-President for Marketing Affairs Justin Credible states, "We're going to give them copies of the scenes from the script of course, but they will be encouraged to go beyond the page and improvise their own material. The original Twin Peaks film was very depressing and never really caught on with mainstream audiences. We're hoping they will film some new, lighter scenes, which will open up the film to a whole new audience. If the scenes work out as we hope, we might even cut out and replace some parts of the original film."
When asked if any of the original Peaks actors will be featured in the new footage, Credible stated "Of course not. We don't have that kind of budget for this project. The filmers will use whatever people are handy. I doubt any of the Twin Peaks fans will even notice the switch."
New Line has also announced they will be using computer technology to remove all drugs and alcohol from the film, instead replacing them with candy bars. "Speilberg and Lucas broke new ground in this department with ET and Star Wars. We decided drinking and drug use was not something we wanted portrayed in a film associated with New Line."
The new scenes will be edited back into the film instead of being featured as extras, thus creating a new and improved four hour version. "We've got lots of left over footage from the Lord of the Rings series, so we might throw in some shots from there as well" Credible stated. "Once this new super DVD is released, the original version will be pulled from release and the masters will be destroyed. We want the new version to be the one people remember." David Lynch is not being asked to be involved in the new project.
The new disc will feature a pan and scan transfer with a DD 2.0 mono soundtrack. The disc will street later this year with a suggest retail price of $59.99.
Lost Highway DVD rights change hands again

AOL Time Warner announced today their acquisition of the home video library of Vivendi Universal, the French parent company of Universal Pictures. This includes Lost Highway. Universal acquired the rights to Lost Highway from USA Home video, who acquired them from Polygram films, who acquired them from October Films. No word yet on what will happen with the Special Edition DVD. When contacted, Warner Home Video VP Matt Sterbate stated, "We might throw out a pan and scan disc of the film, but we really don't want to spend the money on smaller speciality films such as Lost Highway." When it was pointed out that the work on the special edition disc is already done, thus the money already spent, Sterbated simply stated, "I'm a high level executive, don't bother me with the facts."
No word on how the rumored take over of AOLTimeWarner by the Walt Disney Corporation will affect the future of the disc.
One more news story

In case you hadn't figured it out already, April Fools!
Back to the News Archives
All pages Copyright © 1995-2002 LynchNet, unless otherwise noted.
These pages contain information copyrighted by other individuals and entities. Copyrighted material displayed in these pages is done so for archival purposes only and is not intended to infringe upon the ownership rights of the original owners.